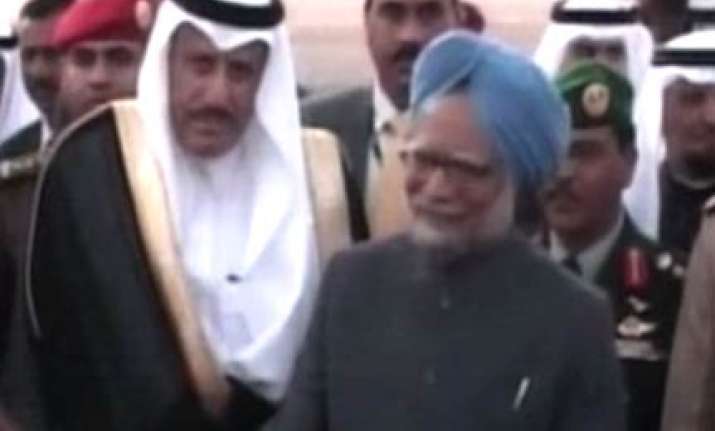 India is willing to walk the "extra mile" to open a new chapter in relations with Pakistan but it must act decisively against terrorism, Prime Minister Manmohan Singh asserted on Monday.
Addressing the Majlis-al-Shura or the Saudi Consultative Council here, he said India seeks a cooperative relationship with Pakistan for permanent peace as both countries are bound together by a shared future.
"We seek cooperative relations with Pakistan. Our objective is a permanent peace because we recognise that we are bound together by a shared future. If there is cooperation between India and Pakistan, vast opportunities will open up for trade, travel and development that will create prosperity in both countries and in South Asia as a whole," Singh said.
But to realise this vision, the Prime Minister asserted, Pakistan must "act decisively against terrorism".
"If Pakistan cooperates with India, there is no problem that we cannot solve and we can walk the extra mile to open a new chapter in relations between our two countries," Singh, who is on a three-day visit to the oil-rich kingdom, said.
Noting that both India and Saudi Arabia are threatened by extremism and violence, the Prime Minister said, "History teaches us that the scourge of terrorism must be confronted with determination and united effort.
 "Nowhere is this challenge greater than in Afghanistan," Singh said.
"The people of Afghanistan have suffered for too long. They deserve an atmosphere of peace and the opportunity to pursue a life of dignity and hope," the Prime Minister said.
He said the pursuit of terror in the name of religion or any other cause or grievance cannot be acceptable to civilized societies. "It has no sanction in any religion."
Singh asked the international community to support all sections of Afghan society who wish to work towards the emergence of Afghanistan as a modern, stable and sovereign nation. "No sanctuary should be given to those who promote terror, violence or instability in the country."
He said India wishes to live in peace and friendship with its neighbours and that he believed that all countries of South Asia should work to realise a common vision of peace and inclusive development for the region.
Addressing the members of the legislative body that advises the Saudi King, Singh said Islam is an integral part of India's nationhood and ethos and of the rich tapestry of its culture. "India has made significant contributions to all aspects of Islamic civilisation. Centres of Islamic learning in India have made a seminal contribution to Islamic and Arab studies," he said.
 "Our 160 million Muslims are contributing to our nation building efforts and have excelled in all walks of life. We are proud of our composite culture...," he said.
Returning to the issue of bilateral ties, he said India considers Saudi Arabia as a "pillar of stability" in the Gulf region and expressed confidence that the two countries could forge a "new partnership". PTI