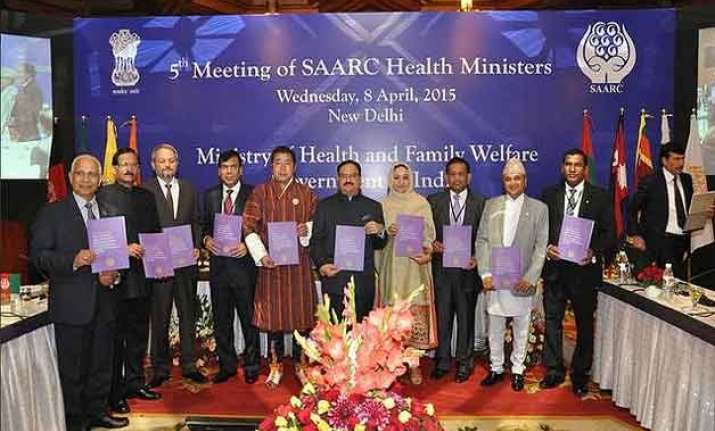 New Delhi: India today extended its assistance to SAARC nations in making the region polio-free and said that it will share its best practices to help the countries achieve the goal.
Chairing the 5th meeting of health ministers of SAARC nations, Health Minister J.P Nadda stressed on the need for the nations to work together in promoting public health, prevent disease and universalisation of health coverage.
"Have resolved to make the region polio-free. India ready to extend all assistance. SAARC region to work together to promote public health, prevent disease, universalise health coverage," Nadda said according to the Health Ministry's posts on microblogging site Twitter.
During the meeting, the Health Minister also highlighted that antimicrobial resistance, also known as antibiotic resistance or drug resistance, was as an emerging area of concern for SAARC countries.
According to Health Ministry officials, almost all the countries under South Asian Association for Regional Cooperation (SAARC) agreed that they had common health issues and said that they would depend on India to extend its assistance as it has more resources.
Delivering India's official statement, Health Secretary B.P Sharma reiterated the country's support on immunisation in SAARC nations and also its commitment to eliminate AIDS in the region by 2030.
"Let us reiterate our commitment to eliminate AIDS in the region by 2030. India ready to support efforts and initiatives on immunisation in SAARC countries," Sharma said according to the ministry's tweets.
SAARC health ministers also stressed on strengthening coordination and collaboration to address similar health issues in the region. They highlighted the challenges of emerging non-communicable diseases during the meeting.
Meanwhile, Nadda also saluted the dedication and commitment of health workers who lost their lives serving Ebola-affected people.
The health ministers of SAARC nations are also expected to meet Prime Minister Narendra Modi today.
Some of the prominent health issues discussed include prevention and control of communicable and non-communicable diseases, disease surveillance network, health infrastructure, human resources for health, immunisation for vaccine preventable diseases, HIV/AIDS, mental health among others.
SAARC countries comprising Afghanistan, Bangladesh, Bhutan, India, Maldives, Nepal, Pakistan, and Sri Lanka account for nearly a quarter of the world population. These countries face similar health challenges and issues.
"The purpose of the meetings is to find out ways and means to synergise collective efforts, share strategies and implement identified best practices to provide better health and quality of life to the citizens of SAARC countries," the Health Ministry said.