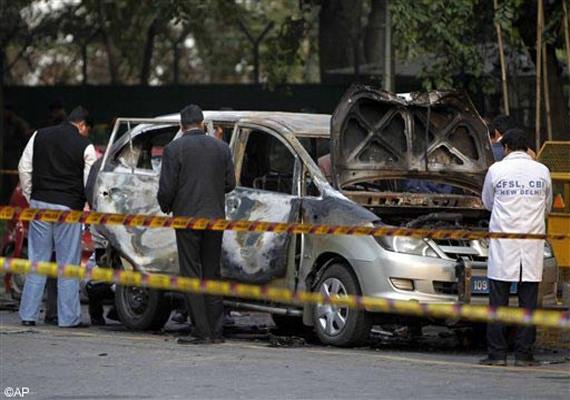 New Delhi, March 15; Delhi Police has reportedly named three Iranian nationals in the Israeli embassy car blast case. All the three Iranians fled the country immediately after the blast, sources said.
 
Police sources told Times of India that the names of the three Iranian nationals are : Houshang Afsar Irani, the man who stuck the magnetic IED on the embassy car, Seyed Ali Mahdiansadr, and Mohammed Reza Abolghashemi.
 
All the three were holding Iranian passports and had come to India on tourist visa, police sources said.
 
They came to Delhi 15 days before the attack and left after the bombing  on Feb 13 for a Middle East country.
 
The names of the three Iranian nationals were revealed by  arrested Indian journalist S M A Kazmi, police sources said.
 
After identifying the attackers, Delhi Police has issued "open warrants" against them. India will now formally give the names of these three to the Iranian government, sources said.
 
Preliminary investigations suggest that the three Iranian nationals reportedly belonged to the Iranian spy agency.
 
Police sources said, the passport of Houshang Irani, son of Ataollah, was issued on January 9, 2010 by the Iranian government.  Seyed Ali Mdiansadr, son of Seyed Ebrahim, had his passport issued on December 25, 2008.
 
The passport of Mohammed Reza Abolghashemi, son of Mohammad Javad, was issued on December 2, 2008.
 
All the three had visited India earlier as well, sources said.
 
Houshang Irani, the main bomber, had come to Delhi in February 2011 and met S M A Kazmi to prepare the plan of attack, police sources said. He stayed with Kazmi for some time. This time around, the three stayed in a hotel in Delhi's congested Paharganj locality.
 
Police sources said, on the day of the blast, Houshang Irani rented a black Hero Honda Passion Pro bike from Karol Bagh.  He followd the Israeli diplomat's car as she headed towards American School to pick up her child.
 
As the car stopped at the Safdarjang Road-Aurangzeb Road crossing,  he stuck the magnetic IED on the right side of the car and fled. Delhi Police have recovered the black motorbike.
 
Delhi Police officials say, Kazmi was certainly part of the conspiracy and provided logistic help to the bombers.
 
Delhi Police special investigation team  found a moped  HR51 5306 from Kazmi's residence which was reportedly used by the bombers for reconnaisance purpose,
 
Houshang Irani had purchased this moped before the blast, and left it with Kazmi before fleeing India. He also left the black motorbike at Kazmi's place, police officials said.
 
Police recovered a photograph of Kazmi with Houshang Irani during searches at the former's residence.