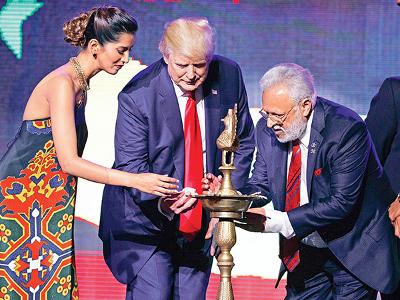 Republican Hindu Coalition India Ambassador and an avid supporter of President-elect Donald Trump Manasvi Mamgai said on Monday that the inauguration ceremony of Donald Trump's swearing in as the 45th President of the United States on January 20 will be studded with performances by several Bollywood celebrities. 
"You will see Bollywood biggies, Bollywood entertainment and all the 'Jhatkas' & 'Matkas' at the inauguration of Donald Trump on January 20," actress and former Miss India Manasvi told news agency ANI. 
You will see Bollywood biggies,Bollywood entertainment & all the 'Jhatkas' & 'Matkas' at the inauguration of Donald Trump on Jan 20- MMamgai pic.twitter.com/7OmyFVvMc0

— ANI (@ANI) January 2, 2017
Trump's inaugural committee released an initial list of groups that have accepted an invitation to take part in the inaugural parade following the swearing in. There will be more than 8,000 participants from 40 organizations, the committee said in a statement. 
Extending her support to the President-elect, Manasvi also said that Trump is going to be the best-ever US President for India as he has shown support to the country and is also very vocal about it.
The President-elect will officially take the oath of office at noon, January 20, at the west front terrace of the U.S. Capitol. 
Manasvi has been an avid "Trump supporter" and campaigned for him during the US elections. 
During the campaign, she had said that Trump's election the White House would benefit India more than Hillary Clinton. She also mentioned that it was 'amazing' that Indians and Hindus were being given such importance at the United States National elections.
Mansvi is the daughter of Shalabh Kumar, a Chicago-based engineer and businessman, who founded the Republican Hindu Coalition (RHC) – a Hindu nationalist group that galvanised support for Trump during his electoral campaign.