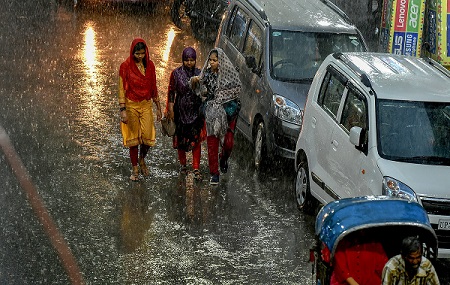 In much-needed respite from scorching heat, southwest monsoon advanced to several states in the north and the northwest of the country, including Delhi, ahead of the scheduled forecast by the India Metrological Department.
The national capital received rains as Monsoon arrived a day ahead of its schedule on Thursday, bringing the mercury down even as humidity levels shot up, oscillating between 100 per cent and 60 per cent. 
The maximum temperature was recorded at 35.2 degrees Celsius, two notches below the season's average. The minimum temperature settled at 24.2 degrees Celsius, four notches below the season's average, a MeT official said. 
The Safdarjung observatory, recording of which is considered the official figure for the city, recorded 20.4 mm rainfall till 8.30 am. It received traces of rainfall till 5.30 pm. 
Lodhi Road, Palam, Ayanagar and Ridge received 20.8 mm, 32.8 mm, 30.6 mm and 33 mm rainfall, respectively till 8.30 am, the MeT said. 
Palam and Ayanagar observatories recorded 5.6 mm and 2.3 mm rainfall, respectively between 8.30 am and 5.30 pm. Areas under Lodhi Road and Ridge did not receive any rainfall during this time interval, it said. 
The MeT office has forecast cloudy skies along with a likelihood of moderate rains and thundershowers for Friday.
"The maximum and minimum temperatures are expected to hover around 36 degrees and 24 degrees Celsius, respectively," the weatherman said. 
Yesterday, the maximum temperature settled at 37.5 degrees Celsius, while the minimum was recorded at 26.2 degrees Celsius. 
This year, monsoon reached Kerala three days ahead of its normal onset date. It battered the western coast in the first half of the month. 
It would cover the entire country in next 2-3 days, Additional Director General Mritunjay Mohapatra said, implying that the Southwest Monsoon could cover the rest of the nation a fortnight before its scheduled date. 
The normal onset date for monsoon in Delhi is June 29 while it usually reaches Sriganganagar in west Rajasthan, its last outpost in the country, on July 15. 
"Southwest Monsoon has further advanced into some more parts of Gujarat region, most parts of east Rajasthan, some parts of West Rajasthan, entire Haryana, Chandigarh, Delhi, remaining parts of west Uttar Pradesh, Uttarakhand, Himachal Pradesh and Punjab," the IMD said. 
"Conditions are favourable for further advance of Southwest Monsoon into remaining parts of north Arabian Sea, Gujarat, Rajasthan and thus the entire country during the next 2-3 days," the IMD added. 
The weather agency said the ongoing heavy rainfall spell is very likely to continue for next 2-3 days over parts of northwestern states. 
Monsoon reaches J-K a week ahead of its schedule
In Jammu and Kashmir, monsoon arrived a week ahead of its schedule this year, as intermittent light rains lashed several parts of the state bringing the mercury down by several notches, much to the respite of people reeling under sweltering heat. 
The denizens of Jammu woke up to a pleasant weather condition after scattered light rains lashed the city of temples as Monsoon hit the state last evening. 
The day temperature in the Jammu city fell by five notches to settle at 28.0 degrees Celsius, 9.7 notches below, normal for this part of the season, an official of the Met department said. 
But the heavy rainfall delayed the commencement of annual Amaranth Yatra to the cave shrine in south Kashmir Himalayas from Pahalgam and Baltal base camps. 
Heavy rainfall batters Himachal Pradesh, lowest temperature of 8 degrees recorded in Keylong 
In Himachal Pradesh, an official of the MeT department said, heavy rainfall occurred at Sirmaur, Solan, Una and Bilaspur districts. The lowest temperature in the state was recorded in Keylong at 8 degrees Celsius and the highest temperature was recorded in Paonta Sahib at 33 degrees Celsius. 
Southwest monsoon advances into Punjab, Haryana
The southwest monsoon further advanced into Punjab and Haryana also, bringing widespread rains in the two states and causing mercury to drop by a few notches. 
Widespread rainfall activity was observed over northwest India with heavy rainfall at isolated places. Officials said moderate to heavy rains also lashed most places in Haryana and Punjab, including Chandigarh. 
"More rainfall is likely over many parts of Punjab and Haryana during the next two-three days. Heavy rainfall is also likely at isolated places during next two days," they said. 
(With PTI inputs)