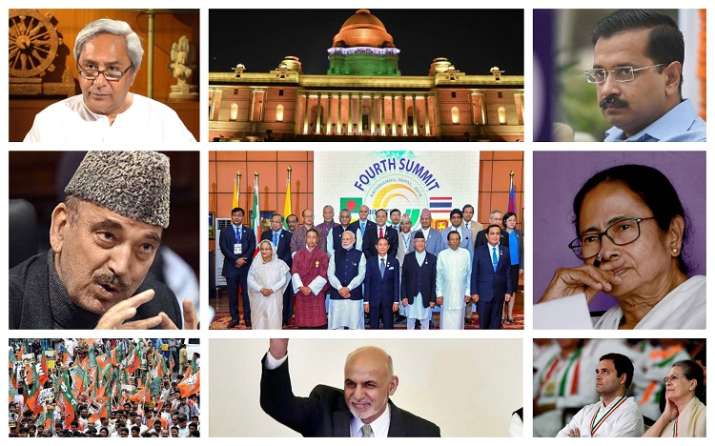 Prime Minister Narendra Modi won the Lok Sabha election 2019 with a massive mandate.
On May 30, the Prime Minister-elect along with all other elected Members of Parliament will take an oath at the Rashtrapati Bhawan.
Several high profile guests are expected to grace the swearing in ceremony. From BIMSTEC leaders to prominent opposition leaders, a range of dignitaries will be witness to Prime Minister Narendra Modi's oath-taking ceremony.
Here is a list of probable high-profile attendees and absentees of the Modi Sarkar 2.0 swearing in
BIMSTEC Leaders 
Leaders of Bay of Bengal Initiative for Multi-Sectoral Technical and Economic Cooperation (BIMSTEC) will be present for the swearing in of Narendra Modi at the Rashtrapati Bhawan on May 30.
President of Bangladesh, Abdul Hamid.
Sri Lankan President, Maithripala Sirisena
Prime Minister of Nepal, K P Sharma
President of Myanmar, U Win Myint
Bhutanese Prime Minister, Lotay Tshering
Mauritius Prime Minister, Pravind Kumar Jugnauth
Kyrgyzstan President, Sooronbay Jeenbekov
Thailand will send its special envoy Grisada Boonrach.
Chief Ministers of states
Most of the Chief Ministers of the BJP ruled states are expected to be present. Newly appointed Chief Minister-designate Jaganmohan Reddy (Andhra Pradesh) is expected to be present at the Rashtrapati Bhavan for the ceremony.
Shiv Sena President Uddhav Thackeray will also be present at the Rashtrapati Bhavan along with his family.
Opposition Leaders
Congress President Rahul Gandhi and Sonia Gandhi will also be present at the Rashtrapati Bhavan. Delhi Chief Minister Arvind Kejriwal is also expected to be present at the ceremony. Other senior Congress leaders like Ghulam Nabi Azad and Anand Sharma will also be seen in the mega showcase event.
Kins of BJP workers who lost their lives in West Bengal
BJP has extended the invitation to the family members of all the party workers who were killed in West Bengal in the last one year.
Notable Absentees
Pakistan Prime Minister Imran Khan will be notably absent from the swearing-in ceremony since no invitation was sent to him.
In 2014 Narendra Modi in his swearing-in ceremony invited Pakistan Prime Minister of the time, Nawaz Sharif to Delhi as a gesture of peace and extending a hand of friendship.
Afghanistan and Maldives are the other SAARC countries whose leaders will be absent.
West Bengal Chief Minister, Mamata Banerjee who was involved in a bitter contest with the Modi led BJP for power in the Lok Sabha constituencies of West Bengal changed he mind at the last moment deciding not to attend the ceremony.
Her decision came after BJP extended an invitation to the families of those BJP workers who lost their lives in West Bengal over the last one year.
Newly appointed Odisha Chief Minister Naveen Patnaik will also be absent from the NaMo swearing-in ceremony.
Also Read | Sonia, Rahul to attend PM Modi's swearing-in ceremony tomorrow
Also Read | Narendra Modi Swearing-In Ceremony: This is what the guests will be served at the mega event