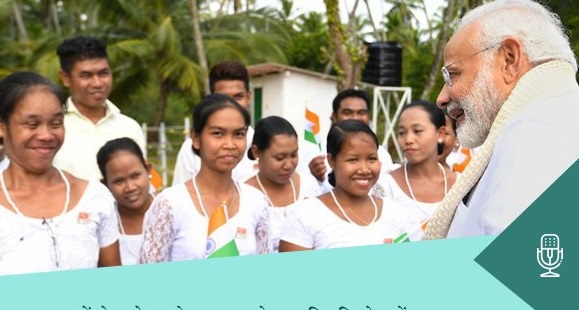 Prime Minister Narendra Modi addressed the nation via his monthly radio show Mann Ki Baat. The radio podcast, which is the first one in 2019, was broadcasted on the entire network of All India Radio (AIR) and Doordarshan. The programme was also be streamed on the YouTube channels of the Prime Minister's Office, Information and Broadcasting Ministry, AIR and DD News.
In addition, Mann Ki Baat will be simultaneously broadcast on AIR's website.  AIR will broadcast the programme in regional languages immediately after the Hindi broadcast. The regional language versions will also be repeated at 8 PM.
In his last address, PM Modi had summed up the government's achievements in 2018, while hoping that India will continue its journey of development in 2019. 
51st Mann Ki Baat: Here is full text of PM Modi's address
Watch live streaming of Mann ki Baat here: 
Here are the Highlights of Mann ki Baat: 
#PM Modi talks about his book Exam Warriors, wishes students, parents and teachers luck for exams; announces that he will address students directly on Jan 29 in special show - Pariksha pe Charcha. The discussion will focus on stress-free exams. 
#Space technology is being deployed in every aspect of development, such as housing scheme, farming, communication, etc. 
#All the space projects launched recently were started in last four years: PM
#Today, our space programme is powered by several young scientists. We must take pride in the fact that the satellites developed by our students are reaching the space today. On 24 January Kalam SAT, created by our students, was launched.
#PM Modi remembers Vikram Sarabhai, credits him for India's space programme. 
#The PM encourages people from across the country to visit places associated with India's historic bravehearts and artists, including Subash Chandra Bose, BR Ambedkar and Rabindra Nath Tagore.
#PM Modi remembers Netaji Subash Chandra Bose. For many years it was being demanded that the files related to Netaji be made public and I am happy that we fulfilled this demand, he said.
मैंने हमेशा से रेडियो को लोगों के साथ जुड़ने का एक महत्वपूर्ण माध्यम माना है उसी तरह नेताजी का भी रेडियो के साथ काफी गहरा नाता था और उन्होंने भी देशवासियों से संवाद करने के लिए रेडियो को चुना था : PM#MannKiBaat pic.twitter.com/9GcIHqksZW

— PMO India (@PMOIndia) January 27, 2019
#PM Modi requests first time voters to understand the importance of vote and treat it like a responsibility. 
इस साल हमारे देश में लोकसभा के चुनाव होंगे, यह पहला अवसर होगा जहाँ 21वीं सदी में जन्मे युवा लोकसभा चुनावों में अपने मत का उपयोग करेंगे : PM#MannKiBaat pic.twitter.com/H7At3eVcf7

— PMO India (@PMOIndia) January 27, 2019
#PM Modi praises Election Commission, security forces and every one else involved in the electoral process of ensuring free and fair polls across India
#Every voter should practice their right to vote and feel proud of Election Commission: PM Modi wishes nation of National Voters' Day, celebrated on the day of foundation of Election Commission
हमारे देश में एक बहुत ही महत्वपूर्ण संस्था है, जो हमारे लोकतंत्र का तो अभिन्न अंग है ही और हमारे गणतंत्र से भी पुरानी है: PM pic.twitter.com/SlcdL30vJR

— PMO India (@PMOIndia) January 27, 2019
#PM Modi recites Dr APJ Abdul Kalam's poem 'Giving is Happiness' dedicated by former PM to Shivakumara Swamiji 
#PM Modi begins Mann ki Baat with homage to Lingayat Seer Shivakumara Swamiji, says the religious leader contributed immensly to the society via educational institutions, hospitals, etc. 
शिवकुमार स्वामी जी ने अपना सम्पूर्ण जीवन समाज-सेवा में समर्पित कर दिया: PM pic.twitter.com/U0byU9M5TS

— PMO India (@PMOIndia) January 27, 2019
#The live streaming will begin shortly