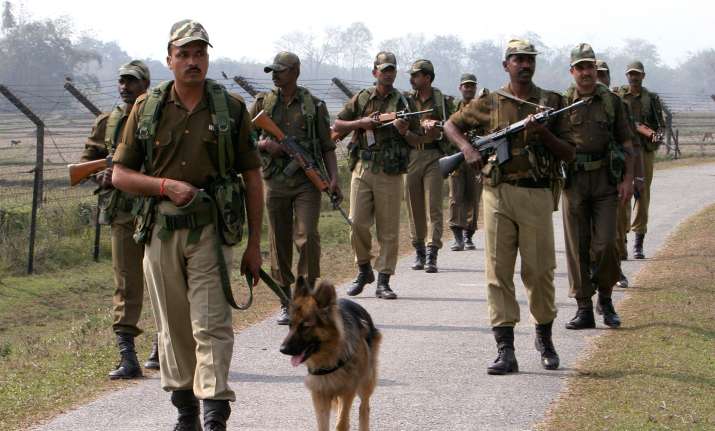 A new measure resorted to by the Border Security Force (BSF) has left the Pakistan army, which aids and facilitates the infiltration of militants into India through the border, running for cover. The BSF, as part of 'Operation Arjun', has begun using targeted firepower on farms and residences of Pakistan's serving and former army officers who have been given land near the border to aid the infiltration of terrorists into India. 
'Operation Arjun' is BSF's counter-offensive on Pakistan's repeated use of snipers to kill jawans, besides firing on civilians and shelling villages along the border, especially over the last one month, says a Times of India report.
Perturbed with BSF's move, Pakistan sued for peace, seeking a ceasefire three days ago.
Under 'Operation Arjun', BSF has particularly targeted farms and residences od retired Pakistan army, ISI and Pakistan Rangers officers who have been given land near the Indian border to facilitate their task of guiding infiltration and providing logistical help in anti-operations India, top sources were quoted by Times of India as saying.
Following the counter-offensive, Pakistan Rangers' Punjab DM Maj Gen Azgar Naveed Hayat Khan called BSF director K K Sharma twice last week requesting a stop to the firing. 
Sharma lodged a strong protest on Pakistan's unprovoked firing causing loss of life and property of civilians living near the border.
Sharma told Khan that his junior, Lt Col Irfan, commanding officer of 12 Chenab Rangers, had the tendency of acting in a provocative manner, raising the risk of retaliation. 
As part of 'Operation Arjun', the BSF used small, medium and area weapons, causing heavy damage on the Pakistani side and the death of seven Pakistan Rangers personnel and 11 civilians.
Several border outposts and structures of Pakistan army and Rangers were destroyed using long-range 81 mm weapons.    
Meanwhile today, Pakistani army yet again resorted to ceasefire violation on the Line of Control (LoC) in Poonch district of Jammu and Kashmir. Police sources said Pakistan Army used mortars, small weapons and automatics to target Indian positions in Shahpur and Balakote areas.