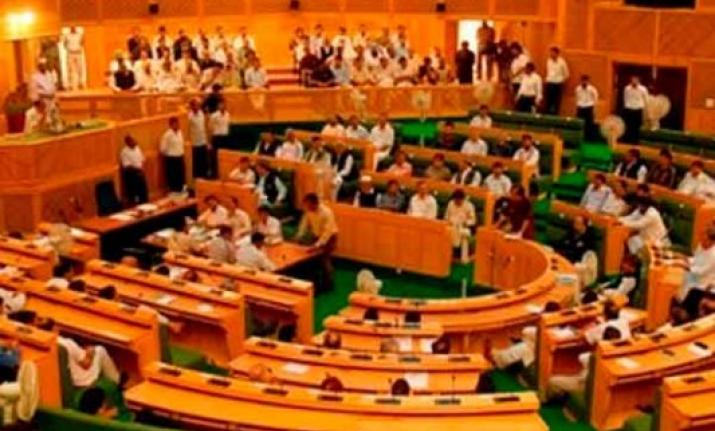 Opposition parties on Wednesday staged a walkout from Jammu and Kashmir Assembly amid noisy scenes over the state government's "failure" in stopping civilian killings. 
Soon after Speaker Kavinder Gupta took his seat, the opposition members rose on their feet and started shouting slogans against the PDP-BJP coalition government for its alleged failure to stop innocent killings, and shortly trooped into the well of the House. 
Members of National Conference (NC), Congress and CPI(M) expressed anger over the death of a 20-year-old man allegedly in firing by security forces following the killing of a militant in Khudwani area of Kulgam district on Tuesday. 
Chief Minister Mehbooba Mufti had on Tuesday expressed deep anguish over the killing of Khalid Hussain Dar of Redwani Payeen and directed the district administration to conduct a probe to know the reasons of the killing. 
Accordingly, Deputy Commissioner, Kulgam, Talat Parvez has appointed Additional District Development Commissioner, Kulgam as the inquiry officer to ascertain the facts in the case, and submit a report within two weeks. 
After raising slogans of 'Stop Innocent Killings' and 'Stop Human Rights Violations' for nearly half-an-hour, the entire opposition staged a walkout despite repeated assurances by the speaker that the government had already ordered a probe into the incident. 
"Innocent killings are continuing unabated in Kashmir. A youth was killed yesterday in Kulgam. How long will we continue to carry the coffins of our youths?" CPI(M) legislator MY Tarigami told reporters outside the House. 
He said the opposition wanted the government to allow a discussion on the prevailing situation in the state. "We want a discussion on the issue and know the policy of the government for stopping innocent killings. Let the chief minister state the position of the government in this matter. If the innocent killings continue, what is the fun of our sitting in the legislative assembly?" the Left leader asked. 
National Conference legislator Abdul Majeed Larmi said, "This government has no answer to the queries of the opposition as it had failed on all fronts". 
NC provincial president Devernder Singh Rana said, "Kashmir is on fire, Jammu smoldering and Ladakh weeping". Referring to the alleged use of force against protesting National Health Mission employees here yesterday, Rana said "It is unfortunate that the government is using batons in Jammu and bullets in Kashmir, and has no other alternatives". 
Congress Legislature party leader Nawang Rigzin Jora said killing of innocent youths in Kashmir was not the only issue. He said use of "brute force" against protesters was another point of discussion. 
BJP legislator Ravinder Raina, however, defended the government and said the opposition was indulged in a "propaganda" to defame the ruling coalition. 
"If someone comes with a gun, grenade or any other weapon to kill innocent persons...if some terrorists come from other side of the border and attack the civilians, our forces won't behave like mute spectators," he told reporters.