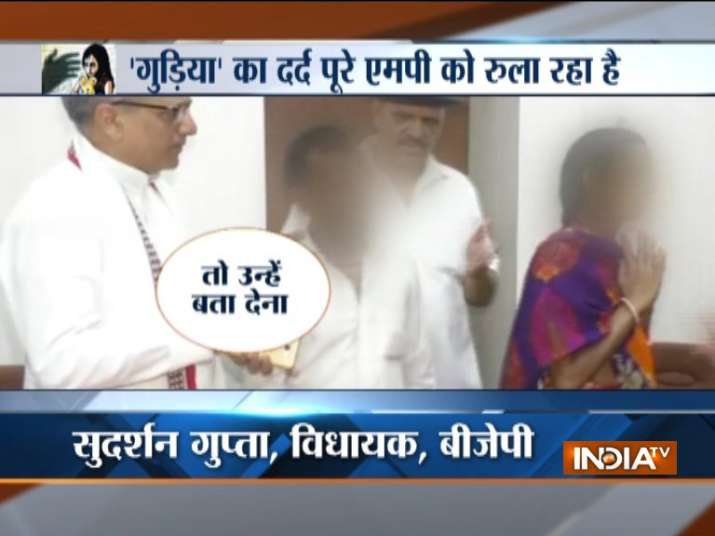 Amid growing outrage over the horrific abduction and rape of an eight-year-old in Madhya Pradesh's Mandsaur, a Bharatiya Janata Party (BJP) leader has kicked up another controversy by asking the victim's family to thank the MP for visiting them at hospital.
BJP MLA Sudarshan Gupta was caught on camera at Indore's MY Hospital asking the victim's parents to thank party MP Sudhir Gupta for visiting them to inquire about the minor girl. "Sansadji aayein hain...inko dhanyawad boliye...aapke liye aayein hain (Say thank you to MP (Sudhir Gupta). He has come to meet you people," Gupta is heard telling the parents of the little girl who is battling between life and death. 
The father and mother of the victim stood with folded hands infront of the leaders.
Meanwhile, one more person was arrested in connection with the rape case on Friday. As soon as the news about both the accused in the heinous crime spread, people started gathering outside the police station. Hundreds of people took to streets in Mandsaur demanding death sentence for the accused men. 
Mandsaur gang-rape case: Both accused arrested, residents take to streets to register protest
One Asif (24) was held from Madarpura locality of the city, after Irfan alias Bhaiyu (20), arrested on Wednesday night, named him as his accomplice in the heinous crime, said additional superintendent of police S S Kanesh. 
Asif, a construction worker, admitted to raping the girl, Kanesh added. He was booked under relevant sections of the IPC and the Protection of Children from Sexual Offences (POCSO) Act. Further investigation was on, the ASP said. 
The minor was abducted while she was waiting for her father outside her school on Tuesday (June 26). After being raped, the accused slit her throat with a knife and left her to die, police said. 
Following a complaint by the victims' parents, she was found lying unconscious in bushes in the Laxman Darwaja area. Medical examination confirmed that she was sexually assaulted, they said. 
Madhya Pradesh Chief Minister Shivraj Singh Chouhan had earlier condemned the incident and said that rapists were a "burden on the earth" and did not deserve to live. 
Watch: Mandsaur gang-rape: BJP MLA's shocking act - asks victim's family to thank MP for visiting them in hospital