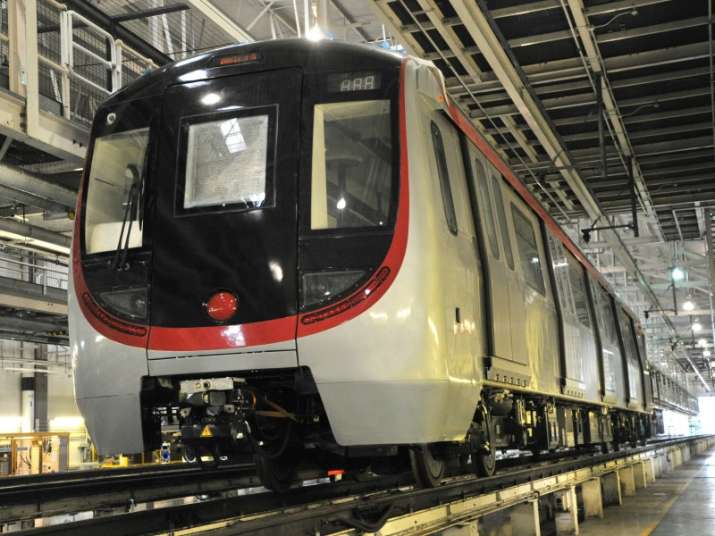 The Delhi Metro Rail Corporation (DMRC) is all set to ply bigger, faster and more spacious Metro trains from March, a media report said on Monday.
The new Metros will run on the new Magenta Line's Botanical Garden-Kalkaji corridor—a section of the Phase 3 expansion.
According to a Hindustan Times report, DMRC has ordered 86 six-coach trains from a Korea-based manufacturer to be used on the new Pink (Mukundpur-Shiv Vihar) and Magenta (Botanical Garden-Janakpuri west) lines. 
The trains also have an 'Unattended Train Operation' mode. Initially, operators will drive them. By mid 2018, the trains are expected to go completely driverless, the report said.
All functions — starting and stopping, acceleration and braking, operation of doors and handling of emergencies — will be fully automated.
The trains also have an Obstruction Deflection Device (ODD) that can remove small obstructions on the track to avoid derailment.
Once the trains become driverless, their two additional front-facing cameras will help the control room spot and prevent suicide attempts. The driver's cabin will be removed, and 60 more passengers can be accommodated in each train.
Phase III of the Metro network is scheduled to be completed in December 2016.
While construction on the fourth phase that comprises six lines will start in 2017 and is scheduled to end in three years.
The 104-kilometre network will cost R55,000 crore and is expected to carry 1.5 million passengers daily.
Six lines, Inderlok–Indraprastha, Tughlakabad–Terminal 1, Lajpat Nagar–Saket G-Block, Janakpuri (West)-RK Ashram and Mukundpur-Maujpur are proposed in phase IV.
These lines, in addition with the 140 kilometres of Metro network being added in Phase III, are expected to free up traffic bottlenecks in the congested central and southern parts of the city and help people living in outer Delhi.
By the end of 2020, the Delhi Metro will surpass the world's oldest metro network – the London Tube – in terms of length.