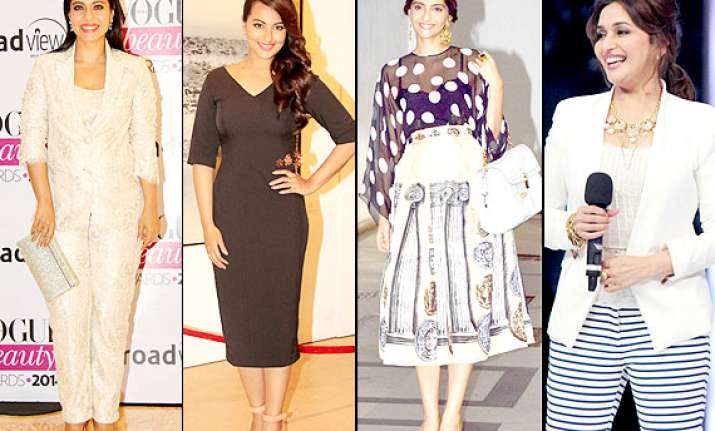 Sonam Kapoor, Sonakshi Sinha, Madhuri Dixit and Kajol, the eclectic Bollywood divas who certainly pave wonders with their alluring looks comprise our list of the worst dressed celebs of the week.
The ever-so-charming doves of the lake of our Bollywood, these charming beauties simply went against the direction of our style radar this time.
Though keeping their fashion foot high always, such is the charisma of these babes of the industry that we regret every time we put them under the scanner of perfect style frenzy.
Keeping a high glaze of hers this week was Sonam Kapoor, who gave us two scintillating appearances. First, at the trailer of her upcoming, 'Khoobsurat' wearing a Toni Maticevski silk dress. While she managed to look pretty in herself, her entire look couldn't impress us (focus on footwear and hairdo).
Other appearance of her witnessed a rather damp look for the Karan Johar bash. Sonam arrived in a Dolce & Gabbana look and we consider it one of the worst looks of the diva so far.
Though she pulled-off the look, the choice of the look and the fact that she was heading for a private do make us doubt her emerging fashion sense!
Sonakshi Sinha, who is always so graceful and mesmerizing, gave a total faded appearance this week.
Wearing a Nikhil Thampi sheath, the actress looked not-so-radiant. While her hairdo kind of saved her, Sonakshi lacked a bit of glaze in her look and her overall persona fell flat. Apart from that tiny gold-copper embellishment on her dress and her hairdo, there was nothing else impressive.
What to do!
Madhuri Dixit, whose dazzling smile is enough to kill her fans from her looks couldn't make the audience go down on their knees this week. With her appearance on Jhalak this week, we felt a sudden surge of telling her that lady, you are on a complete wrong track!
Her messy updo was the only thing that we liked in her look. Madhuri sported a Zara jacket and a matching cami with striped Malene Birger pants and truly speaking we hate the fit of her pants as much as we hate her fake accent on the show.
Kajol, who has undoubtedly got a few of the wonderful features amongst all the Bollywood divas, attended Vogue beauty awards this week. And while we like her sleek hair-do, we feel like begging her not to even give a single glance to that Shehlaa lace suit again.
Nothing…like seriously nothing can fetch you out when you choose such a piece of disaster for your appearance. Beware Kajol!