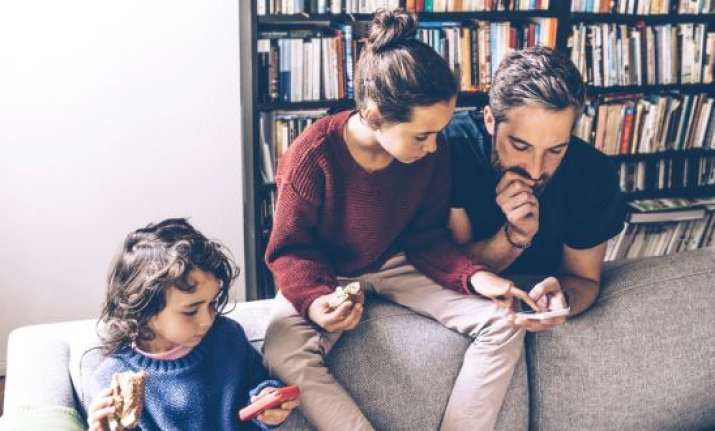 As I watch my two-year-old, effortlessly flicking through the screens of the iPad to watch his favourite Cartoon, I am left swallowing the pangs of guilt as I have been reading a story with him from my iPhone. 
There is no doubt parenting has always been the most challenging of all our endeavours and will more than likely continue along that path. Have recent changes in technology made these endeavours easier or harder to parent? Facebook, Skype, Text messaging, Twitter, emails, etc., technology in today's world offers a plethora of ways to communicate effectively so that every member of a family can keep in touch. However, the one-on-one communication between human beings is falling through the cracks and technology is taking control over a family.
Have you ever been out to a restaurant and looked around at the other people? If not, you should. What you will see typically is families looking at their phones and not talking to each other.It's sad to know that technology today is almost a replacement of family-time and for human interaction.Agreed, that facilitation of communication has never been more available but at one point or another all parents fear that they aren't connecting with their children as well as they want to. You might start to worry that you don't know them as well as you should & this fear can be almost paralyzing.
The days when you find your child demanding or crankyyou would realise that these are his cries to connect with you, they demand your time and undivided attention. The times when your child experiences the most joy are the times when you are together as a family, playing and laughing, and somehow in-sync with each other. As a parent, you model the behaviour that your child will probably adopt later in life. So, if you are constantly on your phone or computer, then you may as well not even be there. Sure, you're "there" physically, but not emotionally and mentally. And that's what really counts! 
In today's activity-packed society, you need to unplug yourself from technology as it blurs the lines between work, home and social lives, parents are grappling to balance it all. It's more important than ever to intentionally connect with your child, Hug, touch or sit near them, figure out what they like and learn about it, have "technology-free" times and places, Play and do activities with them, listen to your child with the attention and focus you would give another adult, let your child take the lead It may mean things will be slower, messier, or less efficient. Have fun together, encourage your child in their passions, create opportunities for conversation and Be a thoughtful role model. 
So, what are you thinking, try an "unplugged window" to open windows for "Family Bonding" most evenings, where tech gets set aside for 60-90 minutes and your child gets the full attention. It will be nice to see some of the dust come off of the toys that you have spent so much money on after all. :)
JASMIN KUMAR 
(The author is an Early Child Care Consultant & Vice-Chairperson, Rayz International Preschool, Noida.)
For more Lifestyle news, visit the Lifestyle section of www.indiatvnews.com