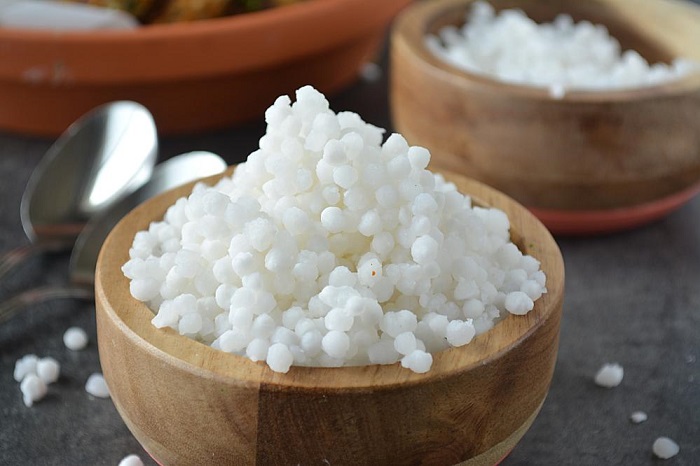 Fasting is not only a religious gesture, but a healthier alternative to detoxify your body. It's a good time to get rid of the harmful substances from your body and stick to a healthier diet plan, instead. There's a scientific reason why Navratri fasting is observed during the transitional phase of seasons. It is said that our immune system is compromised during seasonal transitions. Steering away from certain foods can help you stay fit and dodge seasonal infections. If not completely, then to a particular extent at least. If you're fasting this Navratri, here are some healthier alternatives for snacking, by Team SaleBhai. They are easy to practice and are lighter on your digestive system. 
Chiwda mixtures
Chiwda is a healthy gluten-free snack that helps in preventing iron deficiency. This mixture is the lightest option for namkeen lovers to accompany their evening tea, and is quite versatile. When mixed with roasted nuts, it becomes even more nutritious & delicious, and is the perfect snack to munch on while fasting. Another healthy snack variation made with chiwda is poha, which offers all the goodness of essential vitamins and minerals such as vitamin E & folate.
Sabudana
Sabudana is a staple food ingredient consumed by most people while fasting. It is a rich source of protein, and is important for building bones & muscles. People observing fasts have lesser protein-rich options, which makes sabudana a fantastic option to keep you energetic. Sabudana tikki, kheer, and papad are tasty recipes to try.
Makhana
Makhana or fox nut is usually consumed in roasted form, and is a rich source of carbohydrates. Its low fat content makes it the perfect snack to boost one's energy during days-long fasts. These nuts are also rich in several minerals, such as magnesium and potassium that are necessary to sustain the human body. These nuts can be consumed either roasted over a tawa, or can be used to make the popular Navratri special sweet dish - makhane ki kheer.
Dry fruit laddoos
Those with a sweet tooth can gorge on dried fruit laddoos while fasting, without any guilt. As the name suggests, being loaded with dry fruits makes these round sweets both delicious and healthy. These sweet delights are loaded in essential nutrients such as potassium, vitamins E & B-6, calcium, iron, and magnesium, i.e. everything required to maintain your energy level throughout the day. You can either have these laddoos between meals, or as the sweet course after meals.
Dried fruits
Dried fruits like kiwi fruit, prunes, apricots, figs, black currants, raisins, blueberries, and dates - especially those imported from the Middle East - are an essential power packs to grab this Navratri. One needs to take extra care to maintain blood pressure levels during fasts and these small munchies do the job perfectly. Dried fruits are also packed with fibre and antioxidants, which help keep you feeling full for long durations. Simply snack on these healthy delights to stay active and energetic while fasting.
Farali biscuits
Farali biscuits are sweet and rich in flavour, and unlike most flour-based biscuits, are primarily made with peanuts. Consuming this biscuit almost gives the feeling of having the tasty, flavourful, and protein-rich nut, but in a more delicious form. The biscuits are made with sugar, peanuts, and milk, and can be had as it is, or as a delicious accompaniment to hot beverages like tea and coffee. The farali biscuits can also be used to make delicious chocolate spread sandwiches, or with mangoes placed between two biscuits.
Green tea
Rich in antioxidants, green tea is an excellent beverage that reduces free radicals in the body. The drink takes just two minutes to prepare, and is also known to boost immunity. It not only refreshes you, but improves physical performance as well. For variety, try green tea with different flavours like honey & lemon, and tulsi.
Cold-pressed juices
Cold-pressed juices are tasteful and save time. They are full of fibre and vitamins, and make perfect energy boosters to keep you going all day, especially when you are fasting. You can try kiwi and seabuckthorn alternatives. While the kiwi is an excellent source of fibre, antioxidants, vitamin C, and polyphenols, seabuckthorn is rich in omega fatty acids and other essential nutrients. 
(With ANI Inputs)