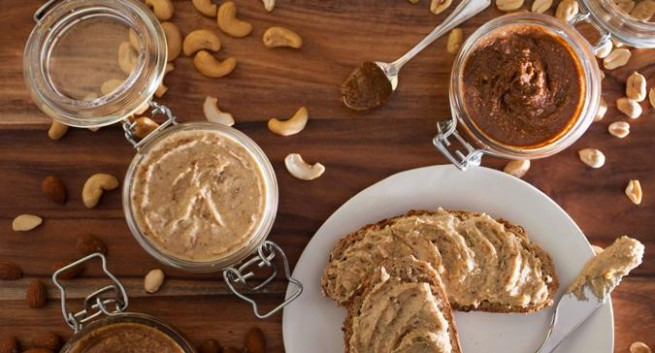 Do you travel often for work or personal reasons, and end up munching on junk? Make sure you get the best of both worlds and eat local, but with a twist -carry your power jars with you so that you don't come home with a lot of guilt.
Also Read -Control your cravings, 5 ways to say goodbye to junk food
Here, we give you five instant solutions to maintain a wholesome and nutritious diet on-the-go!
1. Almond butter is a healthy alternative. Not only is it sweet and luscious, it is also high in nutritional value. Apart from being highly nutritious, it is also high in antioxidants and has properties which help in controlling blood sugar and weight. So, carry almond butter as it serves as a nice dip for your fruits and sweet crackers.
Also Read -7 healthy snack ideas that you can easily prepare and carry anywhere
2. Besides being a great snack, cashew butter can also blend well in smoothies and provide a rich creamy consistency. Cashew butter is a good alternative to other nut butters. The monounsaturated fats found in cashews promote good cardiovascular health with magnesium and antioxidants. If you need an instant sweet fix, dark chocolate with 75 per cent cocoa value will be a quick grab-and-go snacks.
Also Read -Olive oil revolution, 5 reasons to join the tribe
3. Sandwich is one delight that is loved by many. Make them healthy with garlic butter as garlic is a good source of nutrition and combats sickness including common cold, roasted chicken and veggies which can taste heavenly and is an instant snack which is easy to carry.
4. Roll up your wheat tortillas or chapatis with nice and tangy pickles to savour the ultimate taste of health.
Also Read -5 Foods and beverages to have this monsoon season for happy mood
5. Make healthy and nutritious snacks like chilli garlic brown fried rice sautéed vegetables and grilled chicken with the fiery and tangy chilli garlic sauce which can help to lower the cholesterol level because of the antioxidant properties in garlic.
Latest Read -World's oldest cheese discovered from Egyptian tomb
(With IANS Inputs)