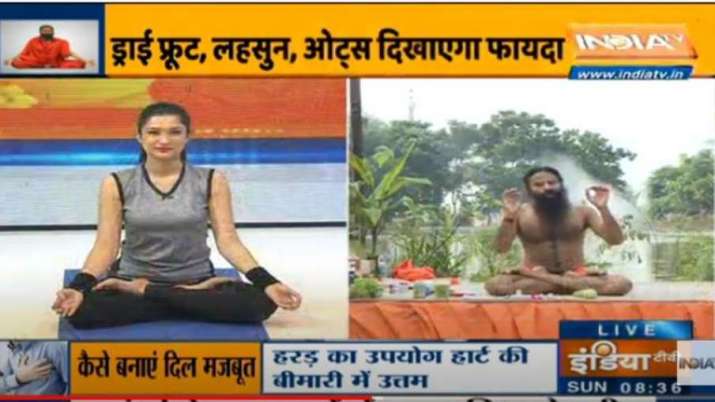 People these days are falling prey to heart ailments at such young ages. This usually happens when one doesn't keep a track of the kind of food they are having or when there is a lack of exercise in the daily routine. Skipping meals to having junk and even consuming zero nutrition food are some of the most common unhealthy lifestyle habits which can impact your heart health. Amidst such a routine, it gets very important to practice yoga. Yes, according to Swami Ramdev, heart problems can be dealt with the help of yoga and some home remedies. Yoga not only helps in strengthening your heart but also tackles the problem of high blood pressure. So, here we are with some yogasanas and pranayamas suggested by Swami Ramdev for strong heart.
Pranayama for strong heart
Kapal Bhati - By performing Kapal Bhati daily in the morning and evening, the problem of heart blockage can be easily avoided.
Anulom-Vilom - Anulom Vilom can prove to be very helpful when practiced daily in the morning as helps in strengthening the heart.
B Ramari - By practicing this asana, the mind will remain calm and will provide relief from stress. 
Bhastrika- Daily practicing this pranayama is considered good for hypertension, asthma, heart disease, TB, tumors, BP, liver cirrhosis, sinus, any kind of energy and lungs. 
Cooling - By doing this asana, stress relieves hypertension. With this, a large amount of oxygen goes inside.
Yogasana for strong heart
Makraasan- This asana provides relaxation of the entire nervous system, body and mind.
Bhujangasana- This yoga pose relieves stress and fatigue and also clears the passages of the heart and lungs. It even improves blood circulation and oxygen supply in your body, especially throughout the spinal and pelvic regions. 
Shashakasana- This asana regulates the functioning of the adrenal glands and also tones the pelvic muscles and the sciatic nerves.
Naukaasana- Also known as boat pose, this pose helps in regulating blood flow and maintains your sugar level.
Sarwangasana- In the pose, your body is inverted, and therefore the blood flow to the heart increases. This helps in the proper functioning of your heart and also prevents palpitations.
Mandukasana- This pose is beneficial to almost all the organs in your body. Regular practice of this asana may increase your lung capacity and can benefit your pancreas and the heart.
Home remedies for heart problems
Have gourd juice, however, avoid bitter gourd juice as it can prove to be harmful for you.
Grind Arjun ki Chhaal and cinnamon together and prepare and drink its mixture. This will relieve you from problems like diabetes, fatty liver, digestive problems and heart problems along with hypertension.
Superfoods for a healthy heart
Linseed
Turmeric
Basil
Gourd
Garlic
Red Chilli
Cinnamon
Pomegranate
Lemon
Grape