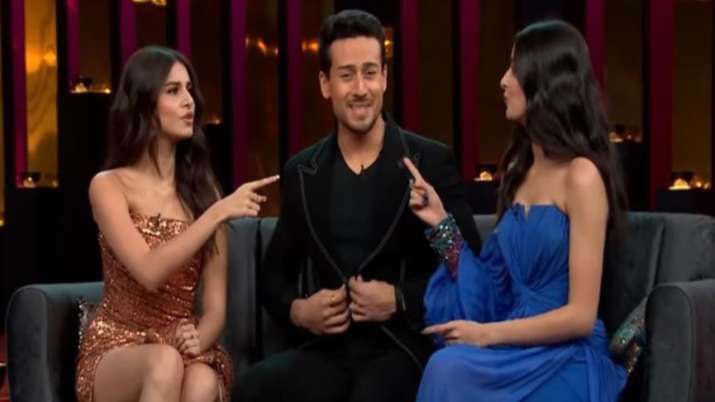 Karan Johar's new set of students Tiger Shroff, Ananya Panday and Tara Sutaria have graced the tonight's episode of Koffee With Karan season 6. The young stars are all set to take on their mentor and host Karan Johar's witty and tricky questions with fun and exciting answers. From promoting their upcoming film Student of the Year 2 to getting candid about their relationships,  Tiger Shroff, Ananya Panday and Tara Sutaria promise a fun filled Koffee with Karan epsiode that will keep you engaged to the fullest.
Here are the Highlights for Koffee With Karan 6 episode featuring Tiger Shroff, Ananya Panday and Tara Sutaria 
9: 50 PM: The Rapid Fire Round ends with Ananya Panday winning the hamper. The pop quic round begins! Tiger Shroff wins the quiz round.
9: 45 PM: Tara says that Tiger looks best with Disha while Ananya believes he looks good with Shraddha Kapoor and even better without his shirt on.
9: 40 PM: It's the ladies turn to play the game. Ananya says she would love to go on a date with Kartik Aaryan while Tara would date her neirghbour Sidharth Malhotra.
9: 35 PM: And the fun and controversial Rapif Fire Round begins! Tiger Shroff beleves Hrithik Roshan is his biggest competition and he picks Disha Patani as his best dance partner and Sushmita Sen or Jacqueline Fernandez as his ideal gym partner. Picking Shah Rukh Khan as his favourite Khan, he says that he really admires SRK a lot.
9: 30 PM: SOTY stars Varun Dhawan, Sidharth Malhotra and Alia Bhatt have special mesages for the new 2019 batch of new students Tiger Shroff, Ananya Panday and Tara Sutaria.
9: 25 PM: Karan Johar introduces fun game among his guests. The game reveals that Tara and Ananya are both drama queens while the girls say that Tiger Shroff takes the most time in hair and makeup amongst them all.  
9: 15 PM:  Ananya Panday and Tara Sutaria imitate each other. Tiger Shroff says that he feels that Tara and Ananya are fake to each other most of the time. Director Punit Malhotra reveals interesting details about Tiger, Ananya and Tara.
9: 10 PM: The beauties Tara Sutaria and Ananya Panday join their Student of the Year 2 co-star Tiger Shroff on the Koffee couch. Born to Chunky Panday and Bhavna Panday, the star kid Ananya Panday opened about how it was easy for her got land a film in Bollywood and feels how she sometimes feels undeserving. She also said that she has been working hard and would really want people to like her and appreciate her work. Tara Sutaria on the other hand said, ""People have been welcoming. Am very reserved and shy at parties but otherwise people have been very welcoming otherwise.".
9: 05 PM: The Baaghi actor reveals how his upcoming co-star Hrithik Roshan taught him the distinction between a star and an actor. When asked about dating Disha Patani, Tiger Shroff said that he loves his company but denies being in relationship with her.
9 PM: Host Karan Johar kick starts the new Koffee with Karan 6 episode. KJo recalls how he introduced Alia Bhatt, Sidharth Malhotra and Vraun Dhawan in Student of the Year and how they went on to become big stars. The director introduces his first guest Tiger Shroff on to the couch.