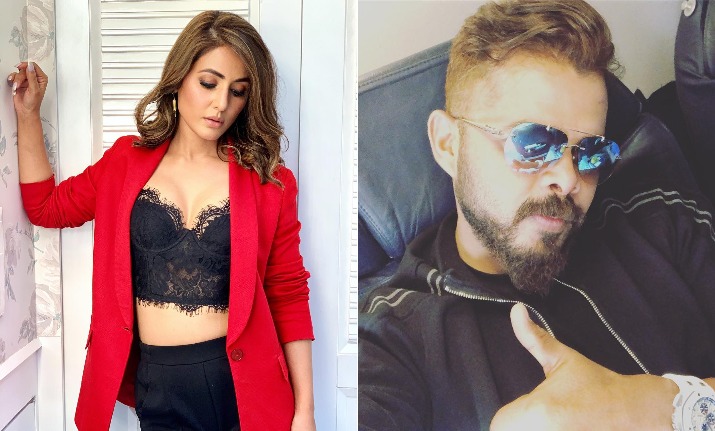 Sreesanth has no control on his words when it comes to speaking. When former contestant Vikas Gupta came inside the house as a guest, Sree insulted him saying, 'Who is he?', pretending of not knowing him. In the last episode, Bigg Boss 11 runner-up entered the house and Sreesanth repeated the same. She came to host BB Hotel Task, which the housemates thoroughly enjoyed. She had loads of fun during the task when she made Deepak Thakur shave half his face and Karanvir Bohra curl his hair. The only controversial part of the entire episode was Sreesanth's rude remark on Hina Khan.
Soon, Twitter was abuzz with Hina Khan fans slamming the cricketer for insulting their idol by calling her bekaar ki guest. However, the truth is far from what it appears. If you watch the episode again and listen carefully to what he's saying, you will know that he's not talking about Hina Khan. He was in fact, talking about himself. He said, "Bekaar ki guest hai mein. Mujhe lag raha hai main one star mein bhi tik jaunga."
He was in fact, complimenting Hina Khan that she was putting so much effort for the task. Here's how Twitterati reacted to this.
@sreesanth36,you called #HinaKhan "bekar ki guest",you also insulted #VikasGupta and now you Insulted #gauharkhan .what do you think about yourself?ghar main natak karke sabki attention lena chahata hain #BiggBoss12 #bigboss #Colours

— Archita Ghatak (@GhatakArchita) December 25, 2018
Sree for Hina : kitni bekar ki Guest ae he

And Some people thinks he deserves to win#FixedWinnerSreeSanth

— ✨Sherry Says 💫 (@SherrySays1) December 25, 2018
OMG... #Sree rude behavior with Gauahar 😠don't he have any shame how to behave with guest
Even he said to Hina ki Kitni bekaar guest hai yaar ye
I'm also support #Sreesanth
But this behaviour is not excepted
Ab kaise safai pes kroge aap log#SreeFam @Bhuvneshwarisr1 @Dsk_Talks

— Rahul jaiswal🏏🏏 (@Rahuljaiswal991) December 25, 2018
See this Video again ❤
Stop spreading negativity against #SreeSanth
He didn't said any words against #HinaKhan ❤

Haters focus on your favorite🤗
Keep barking

I hope all #HinaHolics should see it carefully❤
Thank u#BB12 #biggboss12 #SreeFam pic.twitter.com/bWNJqa3y7h

— Vishnu Reddy😎 (@BeingVishuReddy) December 25, 2018