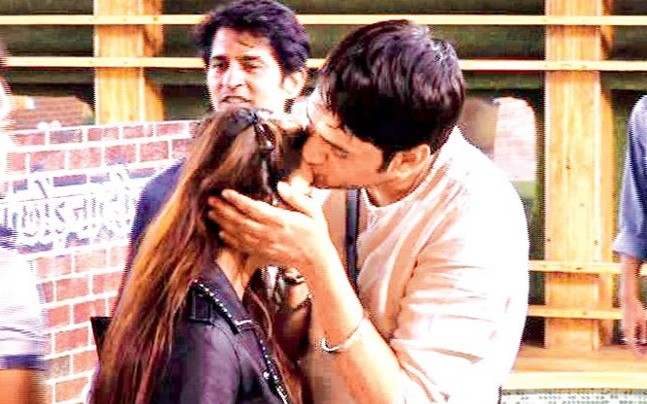 Bigg Boss is definitely the most-watched reality show on Indian television and of course, the most controversial show. But when it comes to TRP ratings, Bigg Boss' performance is far from what was expected of it. The BARCA ratings for week 47 is out and surprisingly Bigg Boss 11 is out of the race! Zee TV's Kundali Bhagya maintains its first place in the list with 3.4 points. But Bigg Boss is nowhere to be seen. With new twists and turns every day, we expected Salman Khan's show to at least find a spot for itself in the Top 10 list.
Amidst the declining TRP, the makers of Bigg Boss have decided to up the drama quotient of the show a few notches higher. No, we aren't talking about Pungi (Puneesh-Bandgi) romance. It's going to be ShiKas romance which will dominate the reality show for the coming episodes. A source close to Vikas Gupta told Bollywoodlife that Bigg Boss is helming a task in which Shilpa Shinde and Vikas Gupta have to take wedding vows, although not for real. The other housemates will be divided into two teams, one will participate in the wedding from Vikas's side while the other will be from Shilpa's side.
It seems like makers are putting Shilpa and Vikas's new friendship to the best use. The task is planned to take place in December, the source confirmed.
Now comes the question, whether this new Vikas-Shilpa stunt will rake in the needed viewership to Bigg Boss?
Looking at the Twitter trends and viewers inclination towards Vikas Gupta and Shilpa Shinde, we can take as read that this new task is going to bring in some numbers for Bigg Boss. If you ask us, our answer is affirmative! The new Shilpa-Vikas wedding drama will surely attract some numbers for Bigg Boss 11.
Ever since Vikas Gupta and Shilpa Shinde patched up in Bigg Boss 11, fans are more than just willing to see something more than friendship between these 'frenemies'. They expressed their wish to see the new friends as a married couple on the show. (I guess that's where the makers go their cue to initiate this Vikas-Shilpa wedding task!) The fans came up with a hashtag #Shikas for the new Jodi on the show after #Pungi. In fact, now Shikas trends far better than Pungi on social media. Be it a casual conversation or a task, Vikas and Shilpa hog away the majority of limelight in Bigg Boss.
Here are the tweets speaking loud about Vikas-Shilpa popularity on social media.
#Shilpa and #Vikas keep finding ways to end up next to one another, either Vikas goes and sits in the kitchen or Shilpa comes and sits next to him in the living room 💓 these cuties are unknowingly growing closer! #ShiKas

— Amy 💥🆚 (@Shilpuchichoo) November 28, 2017
Such an aww Moment...Vikas Was yelling At Hiten...With angry expression And Suddenly Shilpa looked at Him And He smile😩❤️😘 #ShiKas (Sorry For No Sound) pic.twitter.com/XdNKfvvX2c

— TeamShikas (@shikasofficial) November 27, 2017
Omg #ShiKas so romantic pic.twitter.com/9awHZ9hg61

— Mrs. Miracle- 🎮 (@LADY4Miracle) November 23, 2017
Only day nd wake up songs is changing ....but #shikas💑💑 moments always remain same👌👌!!#BiggBoss11 #MTVExtraDose #BB11OnVoot pic.twitter.com/TtTeYsZgBh

— SONU KUMAR ROY (@Skr0596) November 30, 2017
Even the ex-Bigg Boss winner Vindu Dara Singh is so obsessed with Shikas chemistry that he wants either of them to win the show.
VIKAS has BEAUTIFULLY explained the BEAUTIFUL qualities of SHILPA and in doing so he has displayed his own BEAUTIFUL HEART!❤️
A must requisite for a BB WINNER 👍👏#BB11

— Vindu Dara Singh (@RealVinduSingh) November 30, 2017
Well, looking at the popularity of this couple-in-making, one can be 100% sure that this fake wedding task will gets the hopes high for ShiKas fans. I hope they don't start demanding for the couple to get married for real. But we do hope that this adorable friendship remains intact even after the show ends.
#VikasGupta stares at #ShilpaShinda

"Ye aurat itni pyaari lag sakti hai... " ❤️

Shilpa: I know 😊#ShiKas#BB11 #BiggBoss11 pic.twitter.com/fIUwEwzFQ9

— V¡ps.🌻🌟 (@Viipra) December 1, 2017
For the uninitiated, Vikas Gupta was the programming head of the channel where Shilpa Shinde's ex show Bhabhi Ji Ghar Par was aired. The duo had a bitter past as Shilpa left the show midway due to some altercation with the makers of the show. Angoori Bhabhi got her chance to exact her revenge from her former-producer Vikas Gupta when they both participated in Bigg Boss 11. In fact, their 'sweet' fight, as fans like to call it, was the most-discussed topic on the show for a couple of weeks. Let's see what magic Vikas and Shilpa brings on the screen in this season of Bigg Boss 11.