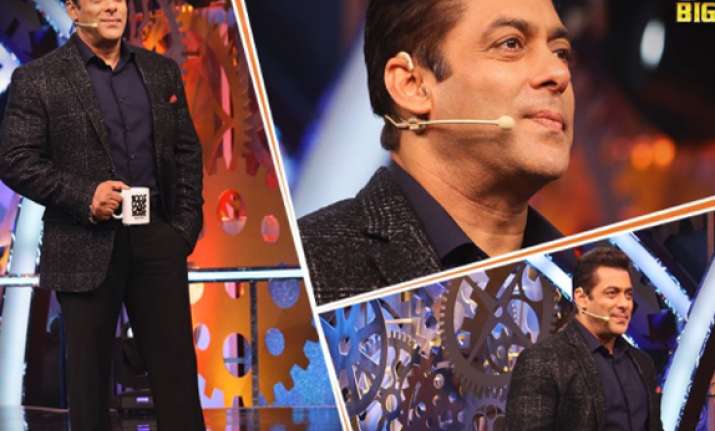 Friend turned foes Bigg Boss 11 contestants Vikas Gupta and Priyank Sharma were seen getting into a heated argument on the show. The host of the controversial reality show Bigg Boss 11, Salman Khan during the Weekend Ka Vaar episode tried to solve the existing issues between the housemates. He slammed Arshi Khan for not allowing Shilpa Shinde to become the captain of the house. In yesterday's episode Arshi and Shilpa had an ugly fight with each other over captaincy. This is for the first time in two months when the house has no captain. In today's episode Mouni Roy added extra dose in the show.
Live Updates:
10:15 PM: Mouni plays a fun game with Salman. Mouni shows two pictures to him, one of Katrina Kaif and the other one of herself and asks him that whom will he save among the two if they are drowning? To which Salman says he will not save anyone. Mouni asks Salman to do 'Maine pyar kiya' dance steps. Mouni will enter the Bigg Boss house tomorrow. 
10:05 PM: Salman welcomes Mouni Roy on the show. A beautiful presentation of Tiger Zinda Hai song Dil Diya galla is played. Mouni has come to promote her show. 
9:59 PM: Vikas tells Arshi and Shilpa that he could also get into fight further in the show. Puneesh tells Akash that he should not have shared things with Arshi.  
9:55 PM; Shilpa and Luv say that no body is friend here in the Bigg Boss house.  
9:47 PM: Shilpa gets shocked after watching the footage. She is confused whether to trust Vikas or not after watching the CCTV footage. Arshi asks Vikas to choose between her and Puneesh.
9:45PM: Shilpa sees the CCTV footage. She is watching how the housemates were bitching behind her in past. Priyank says how heavy she has become, she can't even run. Luv is seen sitting alone in the washroom. Puneesh asks him what has happened to him?
9:38 PM: Luv sees the CCTV footage. Luv sees how Puneesh-Akash and Hiten-Vikas discuss about him. In the CCTV footage Luv sees Priyank talking to Hina that he has a soft corner for her. To which Hina says but he should be aware of it that I am already in a relationship. 
9:33 PM: Salman announces that Luv is not getting evicted for at least another week. He says even Shilpa is safe.
9:28 PM: Salman asks Puneesh to go to the store room. After which Salman asks Vikas among the given photos who will leave Hina's hand. Vikas puts Arshi's photo. Hina says it does not matter to her. Salman asks Hina that who will ditch Vikas? To which she says Puneesh. 
9:26 PM: Vikas says Priyank uses all the members in the house. Vikas says that Priyank even used Benafsha earlier. He even tried to be friendly with Hina and Sapna as they were popular.
9:19 PM: Salman calls Priyank in the podium. Salman asks Priyank about all the ongoing controversy between him and Vikas. Salman also asks the issue with Vikas. Priyank says that Vikas expects him to follow him. Vikas denies his allegations. Vikas says he only corrects him whenever he feels any changes in his personality.
9:17 PM: Salman says if this is the situation in the 11th week in the show, what will be the scenario in the finale.
9:15 PM: Salman explains all the conspiracy of Arshi behind this. He also makes fun of Arshi by sharing the tag she has given to Shilpa.
9:10 PM: Salman questions Arshi that what happened during the captaincy task. Housemates blame Arshi for not able to select the captain of the house. Salman asks Arshi what was the exact reason behind it. He also asks Arshi that why she was not in favour of Shilpa in the captaincy task. 
9:05 PM: Salman asks Hina that what is the difference between Bigg Boss 11 and it's previous seasons? To which Hina says this time the contestants are more competitive. Salman slams Hina and Vikas for not able to get a majority to select a captain of the house.
9:01 PM: Salman Khan welcomes all the housemates in the Weekend Ka Vaar episode. Salman informs the housemates that Shilpa Shinde, Luv Tyagi, Priyank Sharma and Vikas Gupta are nominated for eviction.