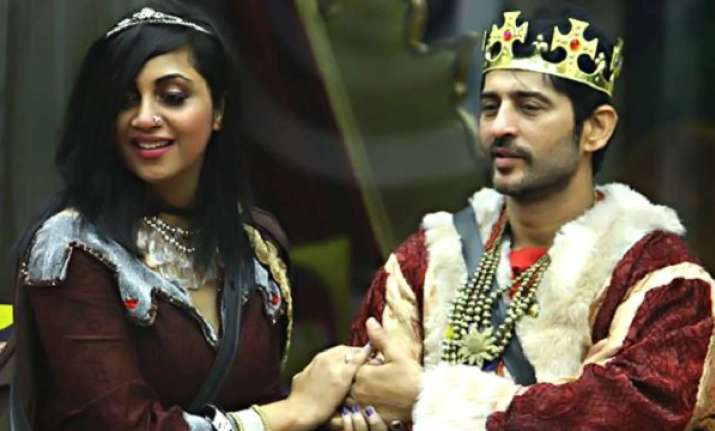 The Bigg Boss 11 Day 71 December 11 episode was full of drama, revenge and fights as the nomination process starts off with a major twist. The contestants were given a special task in which they had to please their captain Arshi Khan. Bigg Boss announces the nomination task and the house gets divided into two teams of red and blue. Arshi gets the power of nominating the contestants by breaking the apples. 
The team with most apples lost gets nominated. Arshi suddenly starts riding a high horse and asks Shilpa Shinde to come and lead to her for saving her. Red team has Priyank Sharma, Luv Tyagi, Hiten Tejwani and Shilpa and Blue team has Akash Dadlani, Hina Khan, Puneesh Sharma, Vikas Gupta.
Akash assures Hiten that Arshi would definitely save him and his team. He threatens Arshi that he would ruin her life if she doesn't save him. On the very first gong, Arshi cuts Akash's balloon and destroys the possibility of any confusion and chaos. On the next gong, she cuts Hina's balloon. Shilpa goes next and Arshi tells Hiten that he would make Vikas weep this time. In the end she takes her revenge from Hiten and nominates his entire team. Priyank, Hiten, Luv and Shilpa.
The kitchen area- epicentre of gossips witness Shilpa and Luv talking about Akash's behaviour. Luv and Hiten asks Akash to draw and line and control his behaviour towards Shilpa.
After observing changes Priyank's behaviour in the house, Vikas Gupta will pour it out on Priyank in the next task. Housemates warn Akash for his behaviour with women. He gets into an ugly spat with Puneesh who advises him as a good friend to stay calm in the house and behave responsibly.