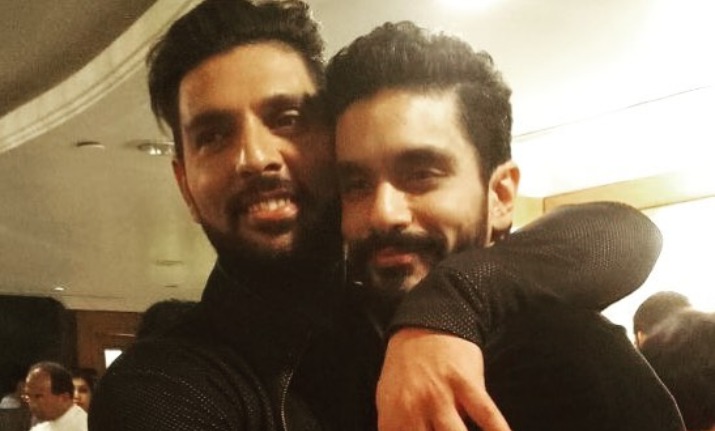 Neha Dhupia and her talk show #NoFilterNeha rocks the charts every time with its new episode. The USP of her chat show is that all the Bollywood stars shed their inhibitions and put their candid best to display. This time, Neha Dhupia roped none other than her husband itself for her chat show. While talking to the host and his wife, Angad divulged many personal details about his personal life, which we're sure Neha Dhupia already knew about. During his conversation, the Soorma actor told how his friendship with cricketer Yuvraj Singh turned sour after his hush-hush wedding with Neha Dhupia.
Angad Bedi completely blames himself for Yuvraj Singh's disappointment with him. Talking about it, he said, "It was my fault and I say this very openly that I should've given him more time but then unfortunately for us the decision making was so sudden. He has his reasons to be upset and I really love him but if you want me to say what our relationship is right now, yes, it's not the same and I hope in due course it does get better because I miss him. He is a dear friend of mine."
Angad Bedi and Neha Dhupia tied the knot in May this year in a hush-hush Punjabi wedding ceremony. They took everyone by surprise by suddenly announcing their nuptials on the social media. Seems like we're not the only ones who were taken aback by their wedding. Best friend Yuvraj Singh is upset with Angad for not telling him about such a big decision of his life.
Talking about Yuvraj Singh's Instagram post on social media, Angad Bedi said, "My best friend did post an Instagram post very recently on Friendship Day and I read that post. Yuvi's quote was something like, 'Just my take on people and who I thought were friends, after the experience, I would like to say I love my dogs more'... It was something like that. I just thought it was a bit immature. But he is entitled to his opinion, so it's fine."