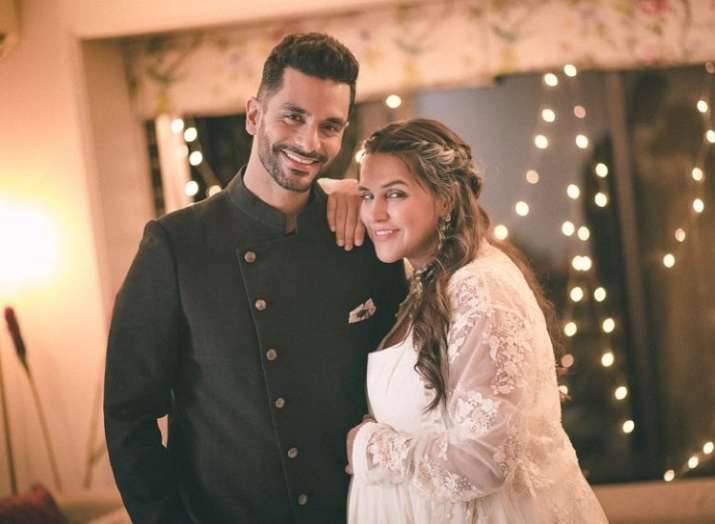 Give it to Angad Bedi for adding all the extra spice at wife Neha Dhupia's chat show No Filter Neha. Leaving all his filters at home, Angad Bedi was on a revelation spree when he appeared on Neha's show and other than talking about his relationship going sour with cricketer and best friend Yuvraj Singh, he revealed the number of girls he has dated before getting hitched to the actress. Well, you will be shocked to know that Angad Bedi has dated nearly 75 girls in his life.
When Neha Dhupia asked her husband, who was on the hot seat, about the number, he said he hasn't dated many women in his life but later revealed the number 75. Well, going by his super-charming looks, we can easily agree with him. Interesting, Angad also revealed that he was mostly in a relationship with older women.
He said, "I never had a girlfriend for the longest time because when I was growing up, I grew up in a lot of discipline. I was a very shy boy and I'm still very shy. But slowly when I moved the base from Delhi to Mumbai, things changed and I made new friends and I realised that I enjoy going out a lot, I was on a self-discovery mode. Beggars can't be choosers, you take what you get. But I think when I was 19 or 20, yea that was the time. In one situation there was a 10-year difference. The next was 3.5 years. I would say, technically, my first relationship was then."
Well, that is some revelation! Talking about Angad Bedi's relationship with Neha Dhupia, the two were best friends for the longest time and then on may 10, they dropped the bomb when they announced that they have tied the knot in a secret ceremony in Delhi. While the whole film fraternity were showering blessings and wishes, Angad Bedi's best friend Yuvraj Singh got upset that he was not told about it before.
Angad revealed, "It was my fault and I say this very openly that I should've given him more time but then unfortunately for us the decision making was so sudden. He has his reasons to be upset and I really love him but if you want me to say what our relationship is right now, yes, it's not the same and I hope in due course it does get better because I miss him. He is a dear friend of mine."
More Bollywood stories and picture galleries
For all latest news and updates, stay tuned to our Facebook page