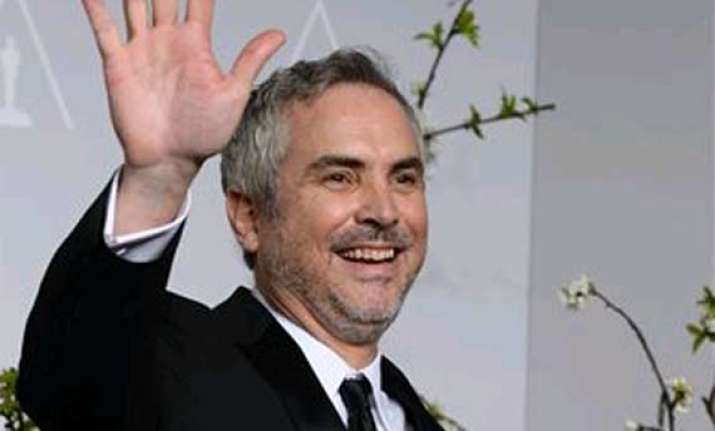 Los Angeles: Mexico-born Alfonso Cuaron won the best director Oscar today for his visually dazzling 3D space disaster drama "Gravity".
Made on a budget of USD 100 million, Cuaron has gone ahead of last year's best director winner Ang Lee in using the 3D technology in "Gravity" to a stunning result. Cuaron's name was announced by actress Angelina Jolie and veteran Sidney Poitier. Interestingly, the director had first offered the lead role in "Gravity" to Jolie, who left the project to direct her second film.
"Like any human endeavor making a film can be transformative experience... The film took so long but it wasn't a waste of time.... I want to share this with all the wise people who made this happen," Cuaron said while joking that he grew old while making the film.
Cuaron has balanced his technical spectacle by extracting a career-best performance from Sandra Bullock in the edge-of-the-seat thriller. Bullock plays a novice astronaut Dr Ryan Stone who must master her terror of space and rely on veteran flight companion, Matt Kowalski (George Clooney) as they get stranded in space.
Cuaron wrote the script with his son Jonas and produced "Gravity" with his "Harry Potter" co-producer, David Heyman. Cuaron, a master when it comes to using his camera to capture long shots, was also won in the editing category. The director is best known for his 2006 film "Children of Men" which had earned him Oscar nominations in film editing and writing categories while his "Y Tu Mama Tambien" was also nominated in the writing category.
Making "Gravity" was not an easy task for Cuaron, who is known for his varied body of work. The affable director started working on the film in 2006. He offered Bullock's role to half a dozen actresses starting from Jolie, Natalie Portman, Jennifer Lopez, Rachel Weisz to Carey Mulligan.
While Robert Downey Jr was earlier attached to play the role that finally went to Clooney.