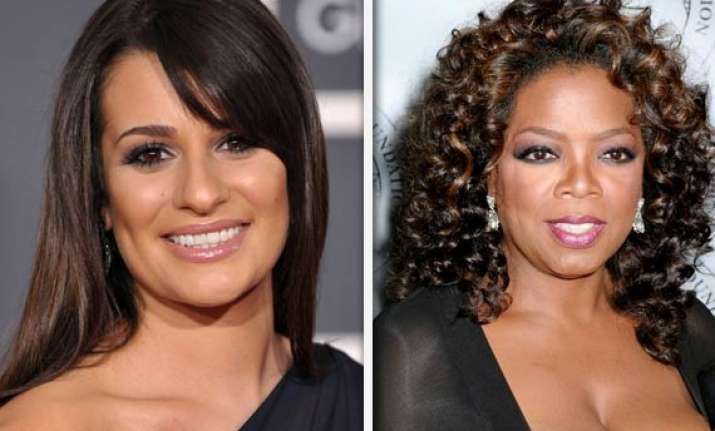 London, Aug 3: Be yourself, go after your dreams, and don't let the haters get you down. Life lessons from Lea Michele.

"How many managers told me, 'Get a nose job. You're not pretty enough'?" the Glee star asks in a chat with Harper's Bazaar. "But I proved them wrong." Totally.

Lea has denied rumors she did get that nose job. "In 3-D, my nose is going to look fabulous," she quips, referring to the 3-D Glee movie out Aug. 12.

Lea isn't exactly Heidi Klum-sexy. And she's fine with it. "I'm 5-foot-3. I don't look like a lot of other people, you know what I mean?" she says. "I look like I'm 12." The actor, who turns 25 on Aug. 29, also has a 12-year-old's energy. "I don't stop," she says. "It's my nature. People have to tell me to slow down. I plan on playing every role on Broadway. I want to do Evita. I want to do Sweeney Todd with [Glee's] Chris Colfer. We want to do Wicked. I'll be Elphaba and he wants to play 'Guy-Linda.' I want to do movies, make music." Is that all?A big O for the Big O!

Oprah Winfrey will be one of three personalities to receive honorary Oscars Nov. 12 at the fabu gala do, the Governor's Awards dinner in Hollywood, the Academy of Motion Picture Arts and Sciences announced Tuesday. The Color Purple star will be presented with the Jean Hersholt Humanitarian Award, which honors movie folk "whose humanitarian efforts have brought credit to the industry." Esteemed thesp (and Darth Vader's vocal cords) James Earl Jones and movie makeup artist Dick Smith also will receive honorary Oscars.

A vid clip has gone viral showing Matt Damon getting all Jason Bourne all over a hapless reporter at the Save Our School march in Washington on Saturday.

Matt, 40, who was accompanied by his mom, teacher Nancy Carlsson-Paige, delivered the keynote address, a passionate defense of job security for America's teachers. He was none too pleased later when a reporter suggested teachers may want to work harder to keep their jobs.

"You think job insecurity is what makes me work hard?" the Oscar-winner scoffed.

"I want to be an actor. That's not an incentive. . . . It's like saying a teacher is going to get lazy when they have tenure. A teacher wants to teach. I mean, why else would you take a [bleep] salary and really long hours and do that job unless you really love to do it?"