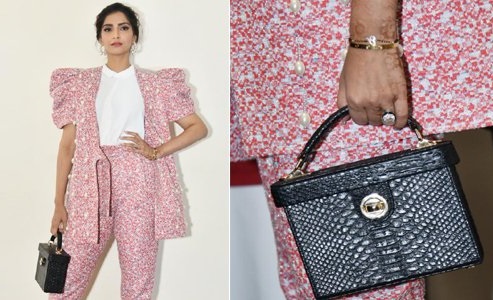 If Sonam Kapoor didn't wear her Mangalsutra, she would've been trolled, if she wore around her wrist, she got trolled. What's the matter with these trolls who have no better jobs than pointing fingers at the celebrities? For those who came late, the newly married actress Sonam Kapoor is keeping very busy with Veere Di Wedding promotions. For the various events, she rocked some chic looks which grabbed a lot of attention. But what got more noticed was the way she always carried her customized Mangalsutra with her.
While most of the fashion police appreciated Sonam Kapoor's unique way of donning her Mangalsutra, the vicious social media trolls have turned towards her. They slammed the actress for mocking the ideology of a Mangalsutra, which is traditionally worn around neck. According to the moral police on the social media, Sonam Kapoor has 'disrespected' the Indian culture and insulted the sacred institution of marriage.
A Twitter user accused Sonam of mixing Indian and foreign culture. We would like to ask the troll, what's wrong in mixing cultures of two geographical areas? Isn't that what we call diversity?
Sonam Kapoor wears her 'mangalsutra' round her wrist and units a brand new style development  https://t.co/vBCuFFLqZc pic.twitter.com/RtwSN5N1sb

— 1 Click Par (@1clickpar) May 20, 2018
"Mangalsutra is not compulsion but it is love by wife for her husband. And it should always be nearby heart for which it is weared [sic] in neck. This bollywood is declining our culture day by day as they grow up in foreign. So they are mixture of indian+foreign," a Twitter user wrote.
"It should be commented when our culture will be challenged everytime. This personal and independent culture is what ? Independence from whom, from ur parents or siblings. This is western culture which cant be tolerated. This indepenence word will destroy our life," it added. 
"Tomorrow she will wear it on her ankle. Wo bhi fashion ho jayega. All are filmstars are crap. We give them undue importance," another Twitter troll offered its two cents. 
Thankfully, there were handful of some sane Twitter users who backed Sonam Kapoor's idea of wearing Mangalsutra around wrist. 
@sonamakapoor i m not ur fan but i must say your pic with mangalsutra on wrist is amazing.. 10/10 for the style..:)
Isn't it funny that men are telling her how to wear that mangal...
Srsly u guys ..
I feel bad for their wives they'll always be behind the bars of #fakeculture.

— Utsav Singh (@DamnSingh20) May 28, 2018
Some sick-minded trolls even threatened to boycott Veere Di Wedding as Sonam Kapoor abused Mangalsutra in the movie. They were referring to Sonam's mangalsutra dialogue in the film.
This entire point of creating a ruckus around Sonam Kapoor wearing her Mangalsutra around wrists sounds vague to me. When will we drop this poisonous habit of pointing fingers and making a molehill out of nothing?