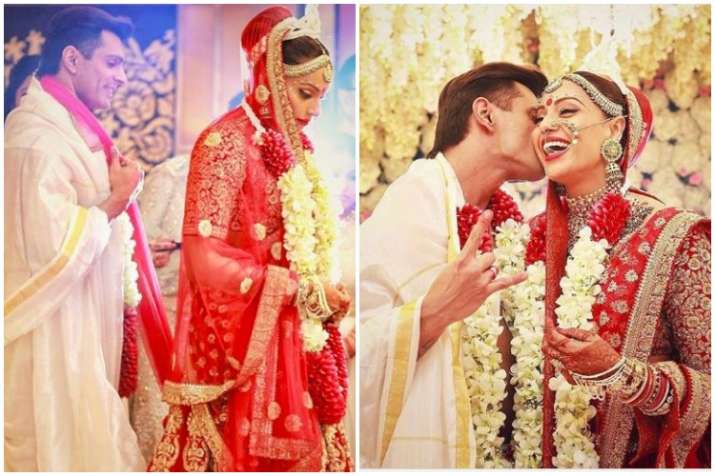 Bollywood actors Bipasha Basu and Karan Singh Grover are one of the most adorable pairs of the industry. They never fail to make each other special with their actions and now on their second wedding anniversary, both of them have shared pics from their marriage and wrote romantic messages for each other. It goes without saying that Karan and Bipasha are head over heels in love. Have a look at their Instagram posts.
Bipasha shared a pic and captioned it as, "30th April 2016 - Our Wedding Day Feels like yesterday but it's been two beautiful years already Finding you @iamksgofficial made me understand ,what true love is... Thank you my love  Happy #monkeyversary I love you I promise... next year, I won't start celebrating from the 28th April and confusing all."
Karan, who never shied away from confessing his love for the lady said, "For the longest time I thought the day I met you was the best day of my life...but then we got married and that became the best day of my life. As time went by, every morning I woke up next to you (which is every morning) started becoming the best days of my life...I guess what I'm trying to say is that I've been struck with this realisation that waking up next to you is the most beautiful magical dream that I'll never wake up from...which means that everyday day of my life is going to be my life's best day for eternity and it's all because of you! Damn! Thank you so much for marrying me my love and showing me what it feels like to live a life filled with only best days! Wish you a very very very happy 2nd anniversary my love @bipashabasu #monkeylove #grateful #monkeyversary."
Karan and Bipasha met on the sets of Alone. They never talked about their relationship until they decided to get married.