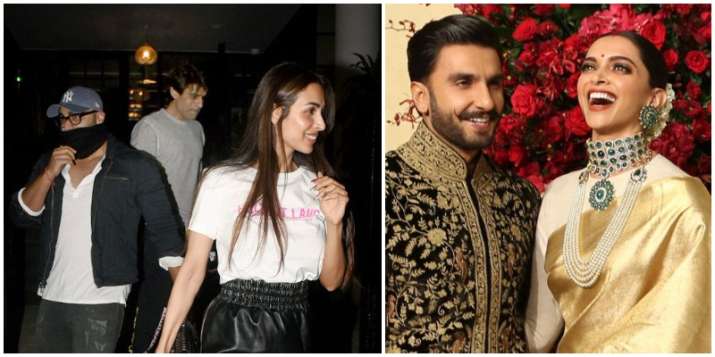 November is all set to end and soon 2018 will also bid goodbye to us. We have to say that it has been a year of Bollywood weddings. Sonam Kapoor, Neha Dhupia, Deepika Padukone and the next one is Priyanka Chopra- actresses are tying the knot while being at top of their career. Through this, they are also shattering stereotypes related to working woman's marriage in Indian society. Celebrities weddings make us excited and why shouldn't we? Bridal avatar and all behind-the-scenes fun are a sight for sore eyes. So as PeeCee prepares for her royal wedding and DeepVeer gears up for their starry Mumbai wedding reception, we have listed all the latest and trending Bollywood news of the day. Read on as you enjoy Saturday with your morning cup of tea or coffee.
Ranveer Singh, Deepika Padukone to attend big fat Sindhi wedding party hosted by actor's sister Ritika Bhavnani
Ranveer Singh and Deepika Padukone are gearing up for their Mumbai wedding reception, which will undoubtedly be a starry one. Several big names of the industry are expected to mark their presence at the bash. However, before the D-Day, Ranveer's sister Ritika Bhavnani is throwing a big fat Sindhi wedding party for the newlywed couple. The bash will be an intimate one and press hasn't been invited. Read full story here.
Kalinga Sena threatens to throw ink on Shah Rukh Khan. Here's why
Shah Rukh Khan, who will be visiting Bhubaneswar next week for the inauguration of 2018 Men's Hockey World Cup has been threatened by a local outfit. The faction which goes by the name of Kalinga Sena has demanded an apology from Khan for 'insulting' Odisha in 2001 film Asoka. The chief of the outfit, Hemant Rath has also filed a complaint against Khan alleging that the superstar has hurt the sentiments of Odia people. Read full story.
I never read scripts, says Sunny Deol
It may sound shocking to you but actor Sunny Deol's process of working in a film is purely "instinctive". After thirty-five years of career in which he has delivered several blockbusters, the actor revealed that he is more interested in listening to the storyteller than reading scripts. For Sunny, it is a matter of choice that he avoids reading scripts as he believes he might look at them with a "certain mindset" and hence prefers to hear them straight from the writers.
Sunny Deol's 'dhai kilo ka hath' still has possibilities
"I am a very instinctive person. I hear an idea, a thought and if it is good and I like it, I just jump for it. I don't go into the detailing of it. Right now, you need to do that but back then filmmaking was different. I never read scripts," Sunny said. Read full story.
Malaika Arora, Arjun Kapoor dine together, Namaste England actor hides his look
Malaika Arora and Arjun Kapoor dined together and a fresh set of pictures from their recent outing is here. No, it wasn't a date as the couple was also joined by Sanjay Kapoor, Karan Johar and others. While Malaika sizzled in leather skirt which she paired with white tee, Arjun was all casual in grey rugged denim and white t-shirt which he paired with a black jacket. Check out all pictures here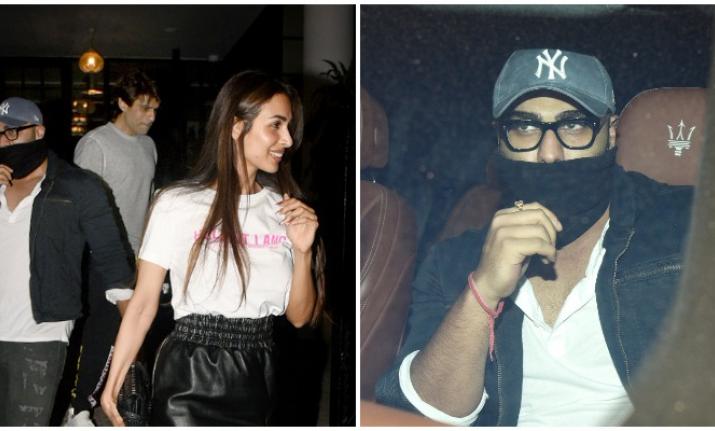 Nepotism will always exist, can't change that, says Preity Zinta
Preity Zinta believes that despite being the most debated topic, nepotism will never cease to exist. She said nepotism is not a new concept and it is natural for parents to help their children. Preity, an outsider herself, said the industry is dominated by people who have made a name for themselves, irrespective of where they come from. "It is an age-old thing that parents will help their children. Nepotism does exist. But then there are stars like Shah Rukh Khan, Akshay Kumar, Aishwarya Rai Bachchan, Deepika Padukone and others who are not from industry and are superstars," she said. Full story here.
More stories and picture galleries
For all latest news and updates, stay tuned to our Facebook page