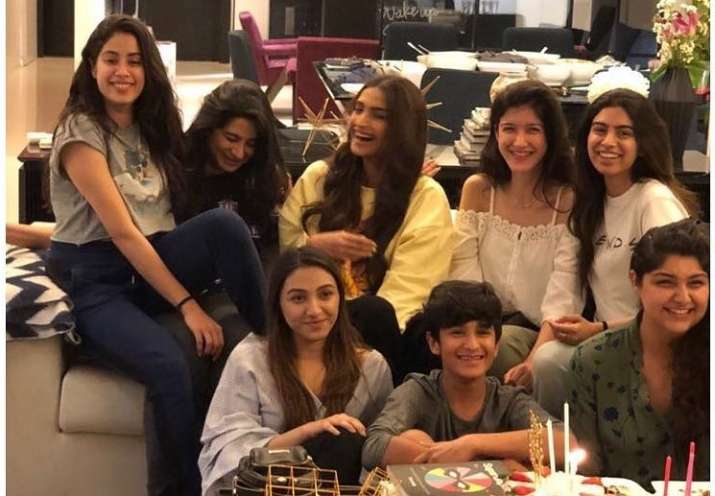 Sridevi's elder daughter Janhvi Kapoor celebrated her birthday in a unique manner after her mother and veteran actress Sridevi Boney Kapoor passed away a couple of weeks ago. She drowned in her bathtub following losing consciousness in her bathroom. Entire film industry including Kapoor family was immersed in deep sorrow post her sudden demise. And another sad part was that Janvhi Kapoor's 21st birthday was falling a few days after her mother's demise. Like it's said, life is another name of moving on and coming to terms with the harsh realities. That's what Janhvi and the entire Kapoor clan did. She celebrated the birthday in an intimate gathering with her family. Sonam Kapoor and Anshula Kapoor shared the picture of the celebration on the social media. Little did they know about the kind of comments coming their way.
Janhvi Kapoor alongwith her sisters was trolled big time for celebrating her birthday and smiling post her mother's demise.
They were lambasted with vile trolls dubbing them as insensitive and merciless for being happy after their family member's demise. Some even advised them to have waited for at least a month to pass after Sridevi's death.
But there were also many who backed the Kapoor daughters and slammed the trolls for being insensitive towards someone who just lost her mother.
"For god sake, millions are still mourning and It's harsh, would Sonam be sharing her happy wedding photos when Anil is gone? Disgusted to see this, at least keep your strong happy brainy girly photos private. This isn't inspiring, forgotten when she's gone, reality of life and what a great memoir from her family! Sonam, we got to know you better with this photo and hate you for not being sensitive as anyone would, you're insanely different!," one user slammed Sonam Kapoor for posting this picture.
"Insensitive..don think you guys are mourning the loss," wrote another.
"Last 20yrs Janhvi is cutting her birthday cake cant she leave it for this year or 13 days later she can give big bash party ...cant believe #sonamKapoor did that .....will she do the same if she lose her mom ...."WAKEUP JANHVI" dont ruin ur image what your mother has created for "YOU" #kapooranddaughters," the comments are in huge numbers.
"I don't know why some people are so insensitive.. Why can't anyone be happy on her birthday ? Sridevi's demise is a huge loss but crying on that will hurt her soul.. Sridevi will be very happy seeing her daughters happy.. Strong kapoor girls," wrote one user.
"Janhvi I'm happy to see yuh happy..i kw it's very hard for yuh make a simle on ur face.. ignore these rubbish plp who trolled yuh for stupid reason... u r jst 21 year old grl u have long life... so jst moveon with simle on ur face," another user backer Kapoor sister.
On her birthday, Janhvi Kapoor wrote an open letter asking her fans to love their parents and always be by their side. She also requested her fans to remember her mother fondly. 
Janhvi Kapoor will be making her debut in Karan Johar's remake of Sairat, Dhadak. Ishaan Khatter will also be making his debut in Bollywood with Dhadak.