Follow us on After three weeks of PK, which is still competent to outshine any new rival at box office, debutant director Amit Ravindernath Sharma is here to help viewers get rid of the hangover of PK and we must say that he stands victorious in his attempt.
Tevar is not the similar gang-war drama, which Bollywood has repeatedly been serving us. It's well structured and saves us from the torturous Bollywood's formulaic tales.
It opens in Agra where Pintoo (Arjun Kapoor) is shown as a young master of Kabbadi who is taking part in a big tournament. However, before he could proceed his life takes a turn when he accidentally bashes Ganjender Singh (Manoj Bajpayee) who forcefully was on his verge to take Radhika (Sonakshi Sinha) away.
Ratings- ***
Stars- Arjun Kapoor, Sonakshi Sinha, Manoj Bajpayee
Director- Amit Ravindernath Sharma
Music- Sajid-Wajid, Imraan Khan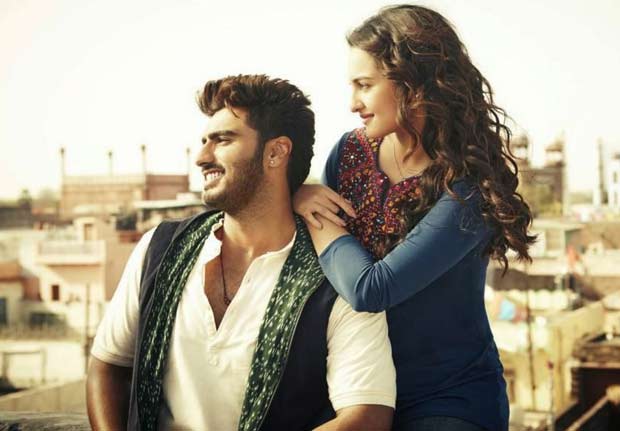 Ganjender Singh is a politician in Mathura and is smitten by Radhika's beauty so much that he wishes to marry her, it doesn't matter if she agrees or not. But when Pintoo gets involved in the mess, he goes on to guard Radhika and brings her to his hometown in Agra. Here Pintoo decides to send her abroad but things get complicated when Radhika falls for him.
Moreover, Pintoo's dad is a police officer and has got the responsibility to find Radhika. So, what's next? Will Gajender find his muse? Or will Pintoo be accomplished in his task of sending Radhika abroad? Or will Pintoo and Radhika fall in love? Find it all in the film.
The story might give you a sense of déjà vu but what differs Tevar from many other masala entertainer are the developments that take time to build. Some might call it wastage of time since it stretches the movie to another 20 minutes. But for better packaging it isn't a bad deal.
Tevar is not like Prabhu Deva or Rohit Shetty directorials that leave behind too many loose threads and yet don't fulfill audience's requirement. Undeniably Tevar too has loopholes but not much to term this movie a complete failure.
Director Amit Ravindernath Sharma doesn't offer anything new with this movie, which is like an old wine in a new bottle. It has been more than a decade that Tevar's original Tamil version 'Okkadu' was released and Bollywood too adopted stories alike. But neither such formula diversified nor the local politics.
Amit cleverly builds the local political stage, which is well utilized by efficient Bajpayee, the master in excelling such characters. There is an expected humour, which he serves throughout. In a three minute scene where Manoj ventures into Mathura University for proposing Sonakshi with a scooter as a token of gratitude is a scene stealer and somewhat reminds you of Salman Khan of Tere Naam.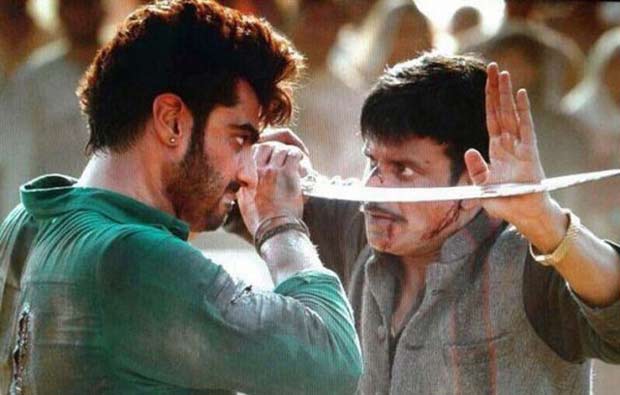 Such scenes are realistic and drag us into the cunning political world. The cops here aren't just a caricature particularly Raj Babbar who surprises us just few scenes later. He plays the no-nonsense police officer in a scene, where he interacts with Manoj Bajpayee. The scene defines he's not the one to be easily tricked.
However, some of the other cops' foolishness presented in the second half spoils the mood. With their stupidity in few scenes the flick leaves behind few threads hanging loose. The romance between Pintoo and Radhika is beautiful but extra songs kill their chemistry.
While their romance just works for a while, the action parts between this one-man army called Pintoo and Gajender's team are provoking. Our superman- Arjun doesn't really fly unnecessarily to punch the baddies but stays on earth and uses raw power to bash them up, something that would remind you of Ishakzaade.
His performance as Pintoo will impress you. He shows the 'Tevar' required for his character and nails it.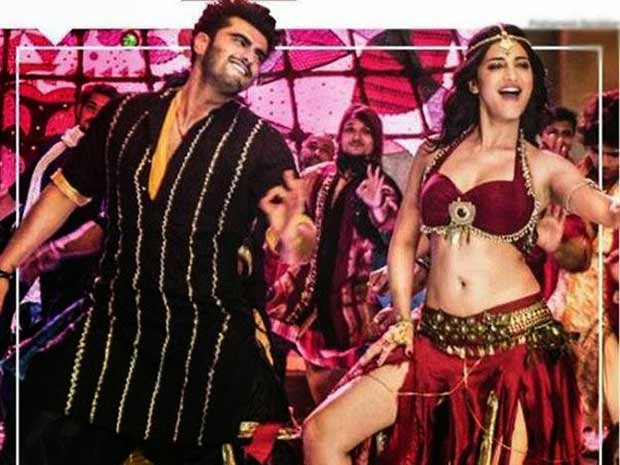 Sonakshi Sinha is calm and composed in her act, which her character demands from her. And yes this is the one masala flick, which could be termed better than many of her last flicks.
Manoj Bajpayee once again does a commendable job. He shows the cunningness and desperation that of a crazy lover. His character of Gajender is written keeping him in mind and he shines in every given scene.
Raj Babbar too fetches our attention. As aforesaid, as a disciplined cop he surprises us all.
Music by Sajid-Wajid and Imran Khan is brilliant. Songs such as 'Superman,' 'Let's celebrate' are already topping the charts. Special mention of Clinton Cerejo has to be given for brilliant background score that accompanies the scene very well.
I'll go with three stars for Tevar which is better than many other dud masala entertainers released in recent couple of years. This over 160-minutes drama won't disappoint you.