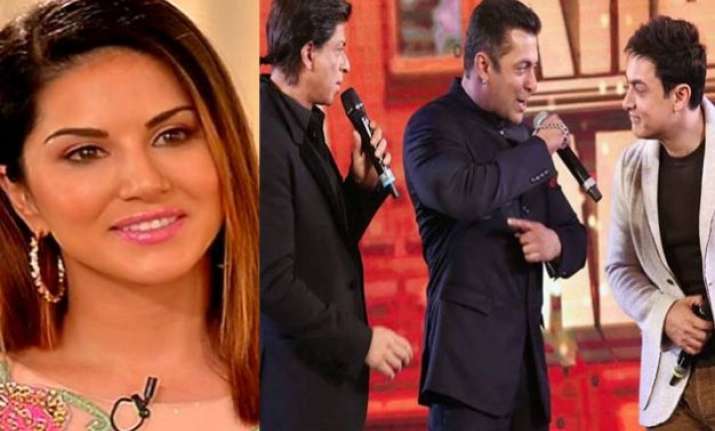 New Delhi: Actress Sunny Leone made it to the headlines this morning after she faced 'sexist' questions about her past at a recent interview. Post the show's being aired; it received a lot of flak from all corners of India. Many took to Twitter to slam the journalist for his failed attempt to dig deep into Sunny's past when she was an adult film star.
Actors like Rishi Kapoor, Anushka Sharma, Alia Bhatt among others praised Sunny for the brave replies to questions fired at her.
During the interview, the journalist also asked, "You would like to work with Aamir Khan, but would Aamir Khan like to work with you?"
Sunny showed her humble side saying that maybe Aamir wouldn't want to work with her, but she would. She just might be wrong.
As it turns out, not only Aamir Khan, but even the other two superstar Khans, Shah Rukh and Salman have heaped praise on Sunny in the past.
In the year 2013, Shah Rukh Khan had admitted that he would love to work with Sunny Leone, when he had come to attend the premiere of Jackpot.
When Sunny first made her TV appearance on Bigg Boss, Salman also went on record to applaud her. In fact, he had backed her in the fifth season, when one of the co-contestants Amar Upadhyay tried to misbehave with her.
Mr. Perfectionist Aamir Khan also was generous enough to reply to Sunny's tweet in which she said that she found him hot.
This only proves that the three superstar Khans have accepted Sunny well in the film industry.