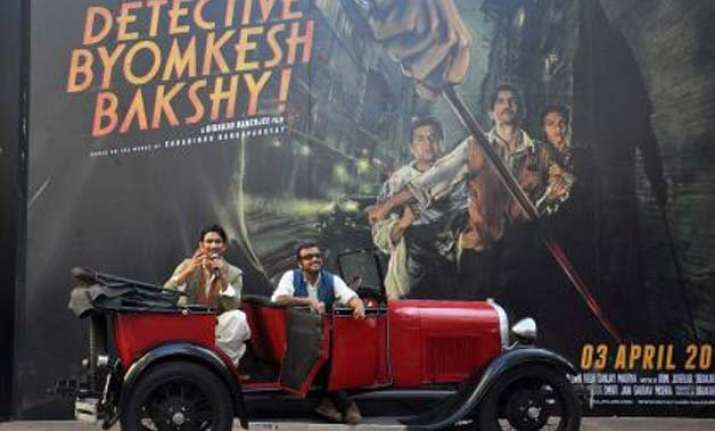 New Delhi: After giving a glimpse of thrills and introducing a masked villain in the trailers of the film "Detective Byomkesh Bakshy!", the makers of the film will throw up a challenge to the audience by releasing a music video with a clue of the hovering mystery.
The special music video titled "Bach ke Bakshy", which will give a clue about the villain, will be launched on Monday. And the man behind the idea is none other than its director Dibakar Banerjee.
Banerjee came up with the unique strategy to shoot a video through which the audience can join the dots to solve the case in the Sushant Singh Rajput starrer film.
"Since everyone is debating the identity of the villain, I am presenting you with a clue. The answer to who the villain is lies in this clue. So watch out closely for it," Banerjee said in a statement.
There will be clues present in the song, which is shot very aesthetically. Even the lyrics have been closely worked upon and a sharp mind will be able to detect the villain, read a statement.
According to a source, as the film is a suspense thriller so when the idea was discussed in an internal meeting Banerjee loved it and instantly got involved in scripting and planning the video.
The song, which is a rap number, will feature Sushant doing a complex dance number. The music has been composed by Banerjee and Sneha Khanwalkar.
International dancer Lauren Gottlieb, who forayed into Bollywood with "ABCD: AnyBody Can Dance", has choreographed the dance. She got interested after Banerjee narrated to her the idea of tucking in clues between the song.
Based on Saradindu Bandyopadhyay's well-known and successful fictional detective Byomkesh Bakshy, "Detective Byomkesh Bakshy!" is a contemporary interpretation of Calcutta (now Kolkata) during the 1940s. It is an adventure thriller mired in deep political intrigue. It is slated to release on April 3.