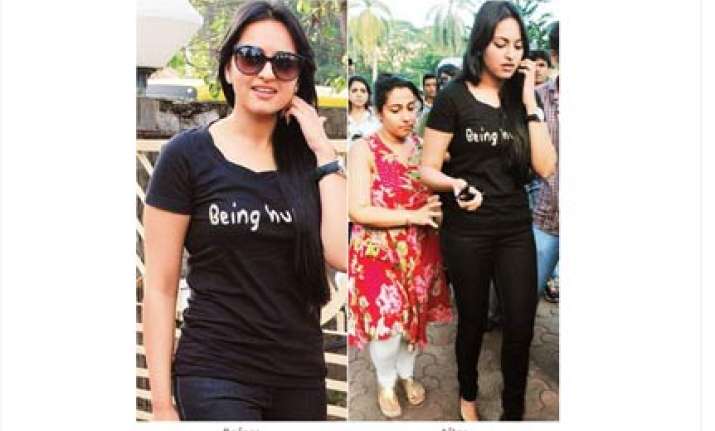 BJP leader Shatrughan Sinha's daughter and Dabangg actress Sonakshi was in for a rude shock on Thursday evening, when a group of boys walked up too close to her and tried to misbehave, reports Mumbai Mirror.
The incident has left Sonakshi quite shaken, the report said. Sonakshi had gone to Gandhi garden near Mantralaya in South Mumbai, where three NGOs from the city paid tributes to those who lost their lives during the 26/11 carnage two years ago.
As the boys attempted to molest her, Sonakshi's bouncers immediately rushed her out of the premises to a safety zone. She was immediately tucked into her car that sped away in no time. They say Sonakshi was in tears when she eventually got into her car.
An eyewitness told Mumbai Mirror, "The miscreants were too brash and rowdy. They came too close to Sonakshi. Everything was fine when Sonakshi entered the premises at 4.25 pm. She sat through the event for an hour. It was only when she got up to leave that the scene turned ugly.
 "Sonakshi was quietly leaving the event around 5.30 pm when suddenly a large group of people began following her. Most of these people seemed to be her fans, but a few miscreants who had been lurking around all this while, cut throught he crowd to reach her."
Sensing a big crowd behind her, Sonakshi apparently hastened her strides but the mob was relentless.
 While saying things like 'Idhar dekho na, hamse baat karo na', some of those guys walked up to her and touched her on her arms and shoulder.
Added the witness, "Their behaviour was disgusting and that too at an event where the police bandobast was at its best."
Said Sonakshi's manager : "The mob's behaviour was simply unacceptable. They created a big ruckus, completely disrespecting the speakers on stage. They even fell over and hit each other."