Follow us on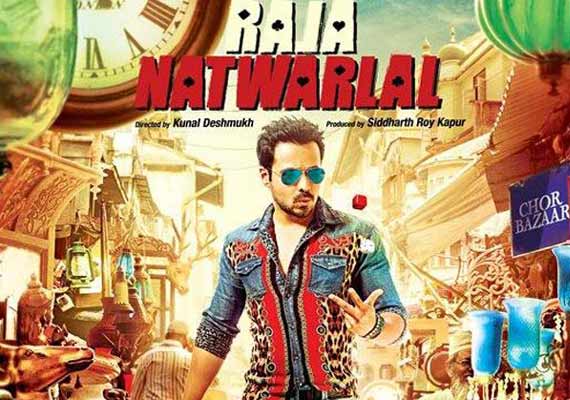 Raja Natwarlal for some would sound a con game following similar tried and tested formulas of Bollywood. While its trailer too had a deja vu feeling, which didn't click this time, Raja Natwarlal as a whole is different from our expectations.

Ratings-** 1/2
Stars- Emraan Hashmi, Humaima Malik, Paresh Rawal, Kay Kay Menon
Director- Kunal Deshmukh
Music Director- Yuvan Shankar Raja
Involvement of cricket gave us a feeling that it would replicate 'Jannat' drama but director Kunal Deshmukh keeping the premise somewhat similar, gives major alters to Raja Natwarlal.
While 'Jannat' was about a man's greed to achieve lavishness in life as fast as possible through cricket, Raja Natwarlal is a revenge-saga underlining the pacts in the cricket world.
The story kicks off with short-time con artists Raja Natwarlal (Emraan Hashmi) and his friend cum partner in crime Raghav (Deepak Tijori). The two can fool anyone with their stupendous tricks in Mumbai and their daily life goes smooth until the day when Raghav is murdered by men of a billionaire Varda Yadav (Kay Kay Menon). He isn't a fixer but has passion for cricket. And so he loves to keep cricket equipments like bat, ball, shoes among others as a show piece.
Raja decides to take revenge from Varda in his style but it's not a cakewalk to reach him and so he seeks help from a con veteran Yog (Paresh Rawal). Yog guides him to reach Varda and ruin him. But will he be successful or get trapped himself is how the story deals further.
What is endearing in this flick is Yog and Raja's teacher-student relationship which through clever dialogues by Sanjay Masoom becomes interesting in this mostly predictable story line. The philosophies of the con world they share are endearing but only till Raja himself becomes the guru and that's when the story starts losing our attention.
The con game doesn't look that clever which was supposed to be intelligent enough when you are targeting a man who is efficient with all the information about cricket. The sequences of bluffing are taken quite easily and casually which aren't convincing.
The pace goes slow and so to push it Kunal inserts couple of songs in the second half. Though, the timing they are inserted is abrupt but is much needed to stop that yawning audience.
Unfortunately, the romance and the chemistry shown between Emraan Hashmi with his leading lady Humaima are limited to just songs and a kiss.
But the flick is not totally disappointing as I felt it would be. The interesting parts come in to entice but at long intervals. There is a zig-zag layer of excitement, which goes mostly down but when it comes up, it works. Designing a clone of the Cricket board and a bidding arrangement for selling cricket team are among few tricks that keep you engaged. The climax with twists and turns too works.
But had they been more emphasized with finesse and clarity, the flick would have been different. Had the cricket insight been given more exposure, Raja Natwarlal would have been a fantastic creation which had much potential.
Nevertheless, performances work and aren't stereotype. Emraan Hashmi has improvised in his acting skills. As a trick master he leaves a mark with a good performance.
Paresh Rawal as the gyan guru excels. His philosophies and the timings with which he delivers his dialogues provide a comic-relief but are restricted.
Kay Kay Menon as an antagonist is great. Even if the script mocks him sometimes but the actor carries the required arrogance and aggression with ease.
Humaima Malik is not just limited to romance with Emraan. Her character cares about Raja and she justifies the role.
Music however, this time is not that magical as is used to be in Emraan's earlier flick. Songs like 'Kabhi Ruhani', 'Tere Hoke Rahenge' are good but have a shelf life.
Background by Sandeep Shirodkar is good. I'll go with two and a half star for Raja Natwarlal, which pretends to be a clever con game but doesn't really turn into one. Still could be a one-time watch.