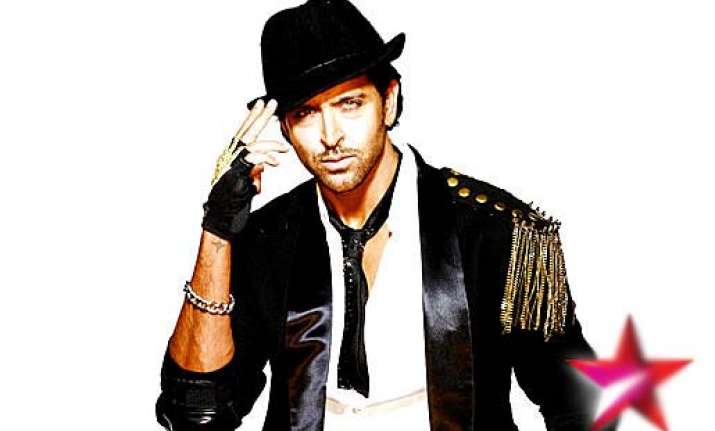 Mumbai, Jun 10: Bollywood's hot dancing star Hrithik Roshan had the shock of his life when he found his dancing shoes missing from the sets of his dance reality show Just Dance in Film City, Goregaon., says a media report.  

The dancing shoes, says the report, went missing on the very first day of the shoot of the reality show. The pair of dancing shoes was stolen from Hrithik's vanity van, the report said. This, the report says, is exactly the spot where Amrita Rao's diamond necklace and Sonakshi's solitaire earrings were stolen from their vanity vans.

The report quotes a source to describe Hrithik's pain on losing his shoes: "It was Hrithik's first day of shoot. He had a very intense dance piece and he wanted this certain pair of shoes, which he is comfortable in and that went with the whole look. Suddenly, we realised his shoes were missing from the vanity van. There were just so many people on the sets. We knew someone from the crowd had stolen them."

Thankfully, the shoot wasn't stalled and another pair was arranged for the star. "The pair was not from his personal wardrobe but a part of the costumes for the shoot. They were color-coordinated with his clothes. We had to stall the shoot and wait for a long time before we arranged another pair," the source added.

The source described Hrithik's reaction: "He was a little rattled but he is an amazing chap. He is not the kind who will throw a fits for such small issues.""Yes, the pair was expensive. Duggu is a great dancer and needs particular dance shoes that have a certain grip and sole. He tries them on, dances in them and then decides which one is he comfortable in," the source added.

Surily Goel who has designed the actor's look in the show confirms, "When we found that his dancing shoes were stolen, we rushed to the market and got more pairs. The shoot was stalled for a few hours. Maybe we should have been extra careful. But it's okay. Such things happen."