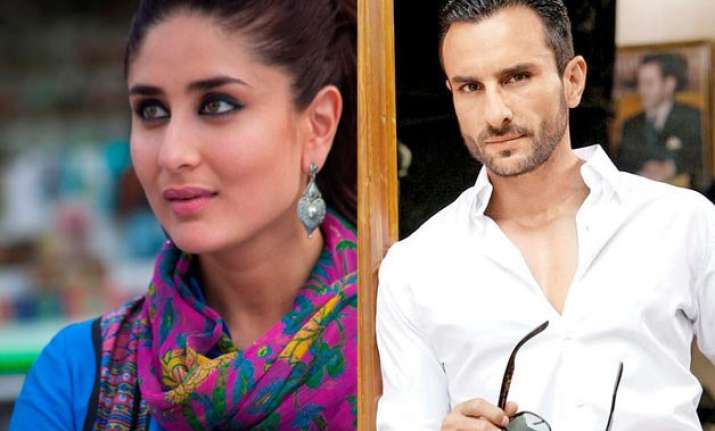 New Delhi: Actress Kareena Kapoor Khan and actor Saif Ali Khan are one of the most loved couples in Bollywood. They are madly in love but Kareena texts someone late at night and it definitely isn't Saif.
So, is Bebo two-timing Saif? Why would she do that?
Before you jump the gun, Kareena texts none other than her 'Ki and Ka' co-star Arjun Kapoor.
Apparently, Arjun and Kareena have bonded very well on the set of this upcoming R. Balki film. According to a leading daily, Kareena said, "We keep chatting even after our shoot is over. Sometimes, at night, when I am on the BBM with him, Saif will ask me who I am chatting with so much? I was very fond of Arjun's mom Mona Kapoor too. I have deep respect for her and the family. To me, Arjun is like family. Saif loves Arjun too because he knows I am so fond of him. Saif understands and appreciates the fact that people admire his wife. But then, he's also very protective of me."
And how does Saif feel about her late night conversations? Kareena spoke about this too, saying, "I don't know, one day Nawab saab might just pick a gun and do something."
Careful, Arjun Kapoor! Saif Ali Khan isn't the one you want to mess with.
Well, Arjun has accepted that he has a huge crush on Kareena. A source close to the actor revealed, "Arjun has a huge crush on her. He has told her that she's the best reel wife he could have."
And Kareena knows about Arjun's crush too. "He claims that he's my biggest fan. He's a mad man! He says he knows and has watched every movie of mine and mugged up all my dialoges. Every day, on the sets, he will spout one dialogue from a random movie of mine. Arjun tells me that he's been tracking me since June 30, 2000 when Refugee released. Right from Refugee to Bajrangi Bhaijaan, he hasn't missed any film of mine. I love it! It's a huge compliment! Except Varun Dhawan, Sidharth, Ranveer and now, Arjun all have said they are my fans and it's wonderful coming from them. They are all super-hot guys and very good actors. My two favourites are Arjun and Varun, but Varun is a big fan of my sister Karisma. I guess that's also because she's done a lot of films with his father David Dhawan."
It would be worth seeing Arjun romancing his real life crush Kareena Kapoor on the silver screen.