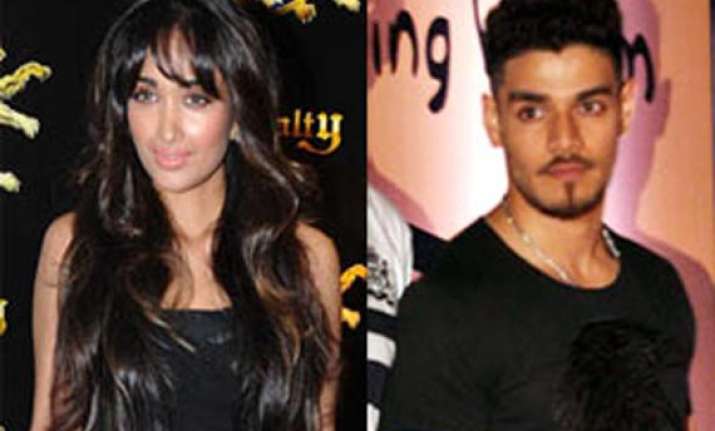 Mumbai, Jun 4 : Bollywood actress Jiah Khan literally pleaded with Suraj Pancholi to be with her in her time of distress, and after a 30-minute long phone conversation, ended her life by hanging herself with a dupatta.
Police investigators who questioned Suraj Pancholi said, Jiah Khan wanted Suraj  back in her life, made frantic calls and sent SMSes. 
In his statement to Juhu Police, Suraj son of actor Aditya Panscholi disclosed that both he and Jiah Khan had parted ways but the actress wanted Suraj back in her life.
Suraj in his statement said that two began dating around early 2012, almost after an year of closeness two parted ways mutually as Jiah had turned too impulsive.
Since last two months, Jiah was in depression and  used to argue with Suraj on phone or at clubs whenever the two bumped into each other.
She wanted to reunite with her ex-beau but Suraj was happy enough to be just friends with her.
Since Monday morning, Jiah started sending him messages and made frantic calls pleading him to come back in her life as she felt very lonely and depressed, Suraj told police. 
To make Jiah feel better ,Suraj also got a flower bouquet  delivered to her Juhu residence, which she threw away. 
It was around  as late as 10pm Jiah constantly started messaging and giving missed calls to Suraj. 
Depressed Jiah wanted to know whether Suraj was dating another model-turned-actress and alleged that he had back stabbed her.
Suraj finally received Jiah's call at 10.53pm  and the two nearly spoke for 30 minutes. 
Jiah was depressed with her professional life. She was recently rejected in an audition in Hyderabad making her feel more disgruntled. 
Though, Suraj tried to counsel her and assured that all would be well soon,  Jiah insisted that he should have been next to her at the time of her loneliness. 
Police sources revealed that during the conversation Jiah did sounded drowsy and Suraj insisted that she must rest and that both would meet the next day. 
But Suraj was shocked when late at night Jiah's mother broke the news of her tragic end. 
"The Police have recorded Suraj's statements and have prima faice not found him to have abetted Jiah into ending her life. A set of close friends of Jiah are also likely to be questioned", a police source said.