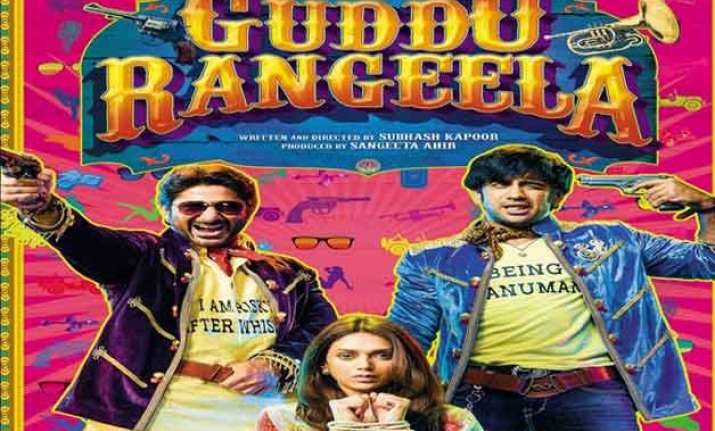 After making two back to back hits, Phans Gaye Obama and Jolly LLB, films that earned both critical and commercial acclaim, Subhash Kapoor is back with his latest offering Guddu Rangeela.
Set in the backdrop of rural Haryana, the story of the film is about two small time thugs Guddu (Amit Sadh) and Rangeela( Arshad Warsi) who are lured into kidnapping a girl, Baby (Aditi Rao Hydari) but as it turns out it was the girl who got herself kidnapped.
As the story unfolds before the duo (Guddu Rangeela), they get personally involved in it. The film is abruptly turned into a revenge saga from a comic caper all thanks to Billu Pehelwan (Ronit Roy), the Khap chief who passes orders and takes pleasure in personally executing couples defying social norms.
The duo (Guddu and Rangeela) has an old score to settle with Billu who killed former's father and later's wife.
Will the duo manage to avenge the loss of their dear ones?  Will they be able to convince the Khaps that forms the rest of the film?
Through this film, Kapoor has strongly pitched against the self- apponited Khaps and their ways of primordial justice but the message gets lost in the intermingling of characters.
Perhaps Kapoor has attempted to make a masala flick with a social message but fails in delivering either of them.
The humor-laden scenes often rings bell but gets marred by the inconsistent script.
The climax of the movie has one weird but noteworthy sequence, the two accomplish (Brijendra Kala and Dibyendu) of Guddu Rangeela come loaded with armours and put the screen on fire.
The question is when you are putting something as relevant as Khap in the forefront of the story, how could you get away with such a ridiculous climax.
The film disappoints at multiple levels. Even if you have a dependable cast, there is no substitute for a weak screenplay and even weaker script. Amit Trivedi's music is average. The track 'Kal Raat Mata ka' garnered attention for its out of t box lyrics than its music.  
Honestly, this is by far the weakest film made by Kapoor, his last two films were embraced by critics and public as well but this film fails to hold viewer's attention.  
Ronit Roy is being stereotyped into playing scary villainous characters. Although he does a fine job with his menacing frowns and fixed brows. Also he has worked a bit too hard on his Haryanvi diction.
It is Arshad warsi who can pull off a Tappori (Munnabhai) or a Bhopali ( Ishqiya)  a Dilliwala (Jolly LLB) with equal ease but as it seems his characters lately more or less has an Ishqiya hangover.
Amit Sadh is alright but playing a rural Haryanvi thug needs more homework. Aditi Rao Hydari never looked as bright as a mastermind in the film.
The film is partly enjoyable but at times becomes a liability. As a character in the film rightly puts it, "When crime gets personal it becomes passionate" but what this film lacks is passion.