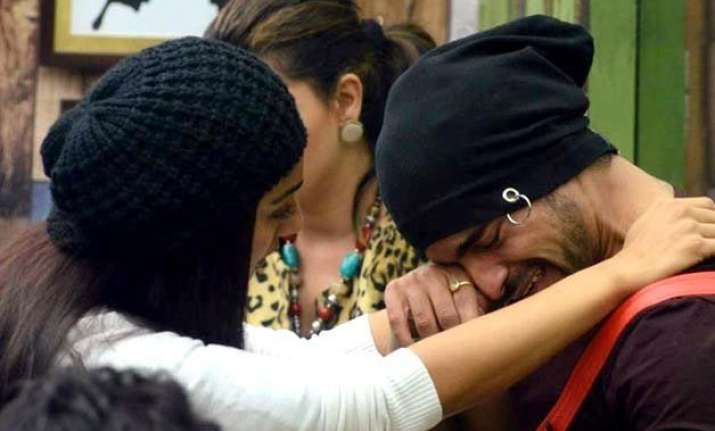 New Delhi: Since Upen re-entered the house, he has been grabbing all the limelight because of his affair with Karishma. But following the events on the 14th day of Bigg Boss Halla Bol, tide has turned and Gautam has garnered a huge support in and outside the house.
In the episode aired on January 21, during a task, Ali tried to make Gautam leave the task by torturing him verbally. Ali went to the extent of making hurtful comments about Gautam's individuality and finally Gautam left the task. He was later seen sobbing inside the bathroom.
Everyone inside the house realized that the comments were not fair and supported Gautam. Following the incident Gautam has got huge support even outside the house. Hashtag #WeAreWithGautam has been trending for two days.
Here are a few of the tweets supporting Gautam:
tanvi sharma ?@tanvisharma211
"#WeAreWithGautam pritam won task But gautam won Respect He will surely win BB trophy"
Vindu Dara Singh @RealVinduSingh
"He wil stand up the whole day for a task BUT he wont take insults for a Cash Prize
That's GG for you! Some Bargained & Quit #WeAreWithGautam"
Noopur Gautam FTW ?@nups_03
"@TheFarahKhan Plz do justice with Gautam by reprimanding wat Ali n Pritam did..both r equally responsible for d torture tsk #WeAreWithGautam"
Ras @p_hilophobic
"I support Gautam cuz I've been through what he's going through rn throughout my whole life! He's remained strong tho. #BB8 #WeAreWithGautam"
Today, hashtag #WorldWithGautamGulati is trending on Twitter and has got thousands of tweets supporting Gautam.
tanvi sharma @tanvisharma211
"#WorldWithGautamGulati gautam greatest personality ever enter in BB ever RT if u agree"
Nilma. @Niiliimaa
"Awkward moment when Pritam overreacted more on asking his wife's name than Gautam on being told about his character. #WorldWithGautamGulati"
Ras (Gautam's PR) @p_hilophobic
"KARMA. Gautam left a task for 25 lacs but won the same 25 lacs BACK that too with his dignity INTACT. #BB8 #WorldWithGautamGulati"
The support Gautam is currently getting clearly makes him the strongest contender of Bigg Boss 8 crown.