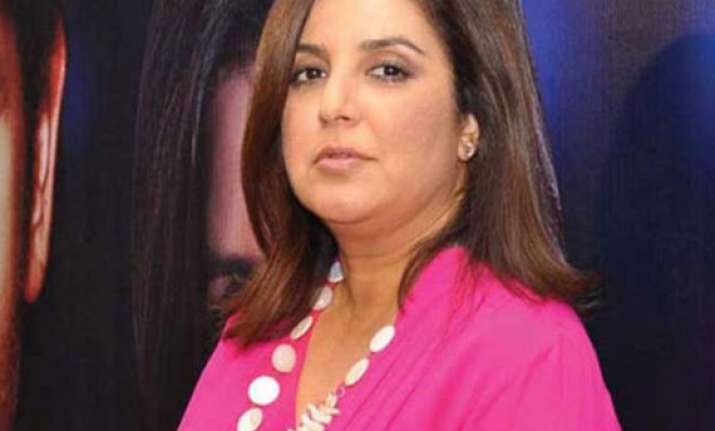 Mumbai, June 12: Choreographer-filmmaker Farah Khan is relieved on returning home after spending 10 days in a hospital here. She was admitted after she reportedly complained of high fever.
"What a relief to be home after 10 days in hosp(ital)! Treatment still going on, but already feeling better with my family around. Bed rest for another week," tweeted Farah.
While in hospital, Farah, who is married to editor-turned-director Shirish Kunder and has triplets with him, sought "positive energy" from the concern and prayers she recieved from her fans and Twitterati.
Farah is currently seen as a judge on TV dance reality show "Dance India Dance Super Moms".
-*-
Please exercise, urges Sanjay Gupta
Filmmaker Sanjay Gupta, who has worked with fit and brawny actors like John Abraham, Suniel Shetty and Sonu Sood in his films, vouches for the importance of following a regular exercise regime.
"For all those neglecting your exercises, please don't. Like me, one day you'll wake up and seeing yourself in the mirror go, WTF. Ye kya hua (What has happened)," Gupta posted on Twitter.
"And whatever weight you gain, it's never too late to knock it off. Just an hour of exercise and correct eating. Your health comes first," he added.
Director of films like "Kaante", "Shootout At Lokhandwala" and "Shootout At Wadala", Gupta now makes sure he exercises regularly.
"Off to the gym now, can't recognise myself in the mirror with all the weight I gained in the last year. Work is important but...," he tweeted.
-*-
Aftab's special gift to Dabboo Ratnani
Actor Aftab Shivdasani has gifted celebrity photographer Dabboo Ratnani a special Harley Davidson biker jacket.
"Thank you bro, Aftab for the gift, an amazing Harley Davidson Biker Jacket," Ratnani posted in a tweet to Aftab.
Aftab asked him to "enjoy" the gift, tweeting: 'My pleasure bro, go ride them like never before, but carefully."
On the big screen, Aftab was last seen in "1920 - Evil Returns", and he has shot for "Grand Masti", a sequel to comedy entertainer "Masti", which released seven years ago.