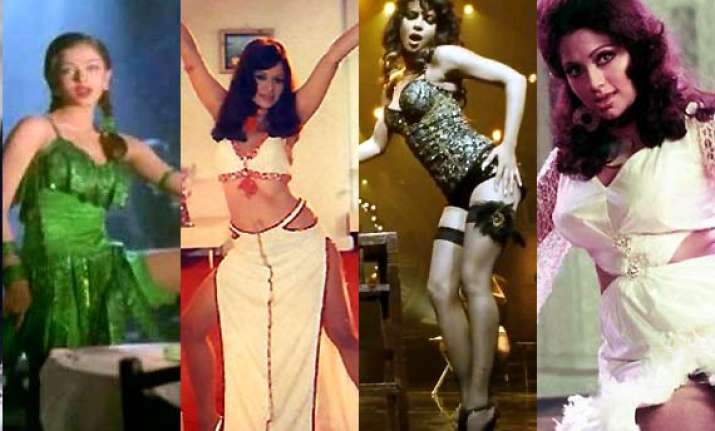 Unlike today's sleazy dance numbers, cabaret dance sequence of 60's & 70's had a fad that remains intact until now.
Many seductive divas have come and gone but none could cross the benchmark setup by Bollywood's cabaret goddess Helen. The stunning cabaret dancer, Helen's presence meant a dance that made you groove without a dash of vulgarity unlike now.
Those killer moves and sensuous expressions swayed the hearts of millions and with more and more divas trying to perform cabaret sequences we wonder who has got the right 'oomph factor'.
Be it Kareena Kapoor, Aishwarya Rai, or even yesteryear actress Rekha all have dipped in their hands to try out the basics of cabaret but none could beat Helen.
Here's a look at some of the hottest cabaret dancers of all time....
Helen
When it comes to cabaret the only name that pops up is of veteran actress Helen. She not only gave tough competition to her colleagues but has also set as an unbroken benchmark for actresses today.
Some of her memorable dances moves were in 'Mehbooba Mehbooba' from Sholay, 'Monica..Oh my darling!' from Caravan, and 'Yeh Mera Dil' from Don.

Aruna Irani
Many of her cabaret songs were adapted to remix the famous being 'Chadti Jawaani Meri', Kaliyon Ka Chaman, and 'Apni to Jaise Taise'.
The stunning belle who not only showcased her talent through dancing, had been well appreciated for her awesome comic timing and acting prowess.
Bindu
Yesteryear actress Bindu has given Bollywood some of biggest hit cabaret numbers like, 'Mera Naam Shabnam', 'Hungama Ho Gya', and 'Do milte to'.
She was the third pivotal person of 'holy trinity' alongside Helen, and Aruna Irani.