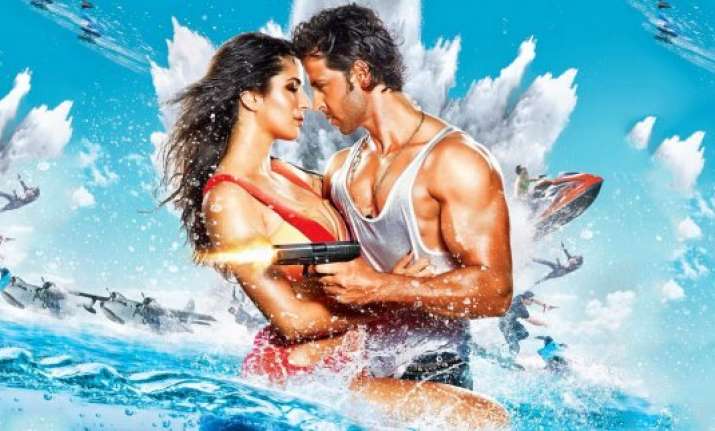 New Delhi: New Delhi: Hrithik Roshan and Katrina Kaif's action drama Bang Bang is continuing to add moolah at box office in the second week too taking the worldwide gross collection to Rs 290 cr.
"BangBangMovie crosses 150 cr in India. Rakes in nearly 20 cr in the 2nd weekend. India total @ 154.68 cr nett. Worldwide total @ 290.97 cr, confirms Fox Star Hindi.
Though witnessed a drop, the movie continued to do a steady business in its second weekend. The Siddharth Anand directorial on its second Sunday garnered Rs 8.03 cr nett taking its eleven days nett total to Rs 154.68 cr.

If compared to other top blockbusters of Bollywood, Bang Bang is at number five. Dhoom 3 (Rs 234.66 cr), Krrish 3 (Rs 211.60 cr) Chennai Express (Rs 186.03 cr) and Kick (Rs 203.93 cr) are ahead of the action-comedy flick with their eleven days collection.
Here is the eleven days breakthrough of Bang Bang's collection in India- Thur- 27.54 cr, Fri- 24.08 cr, Sat- 20.1 cr, Sun- 22.41 cr, Mon- 15.36, Tue- 10.31, Wed- 8.23, Thur- 7.42, Fri- 4.9, Sat- 6.3, Sun- 8.03 Total: Rs 154.68 cr nett.
At overseas, the movie has given tough competition to Dhoom 3 and Kick. Know how.
USA's collection stands at 2.2 mil USD ⎙.47 cr INR] beating Salman Khan's KICK whose collection was 2 million USD.
In UAE / GCC collection recorded was 4.6 million USD ⎨.16 cr INR] which is second best after Aamir Khan's Dhoom3 (6 million USD).
In UK, BangBang has collected 1.66 million USD ⎖.16 cr INR].
From Pakistan the movies has fetched 0.7 million USD Β.32 cr INR].
The overseas total of Hrithik's Bang Bang is approx 70 cr in just 11 days.
The extended weekend proved to be very crucial for Bang Bang, whose production cost was itself Rs 140 cr, which is recovered but now looking at the trends, the movie' chances to become a hit are lesser. Though, movie has another ten days to cash in as much as possible without any hurdle from the newer releases this week.
But even if it earns Rs 5 cr daily on an average, still it would end up with the collection of nearby Rs 200 cr nett in India.
Similarly, Vishal Bhardwaj's Haider starring Shahid Kapoor and Shraddha Kapoor has already recovered its production cost of Rs 24 cr and considering the movie is for the niche audience it is doing a good job at box office.
The movie within ten days of its release has collected Rs 46.07 cr nett in India and looking at the trends, this 'Hamlet' adaptation should end up its box office run with the lifetime collection of around Rs 60 cr and that should be commendable.