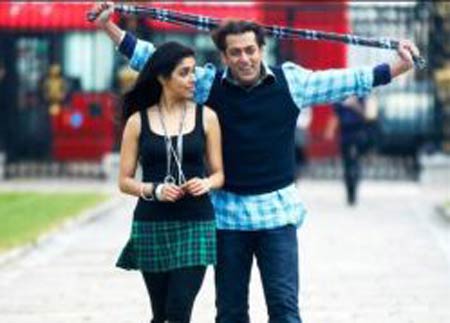 Bollywood actor Asin has denied reports that she has done a steamy scene for the film Mumbai Ready, says a media report. Mumbai Ready is one of the most awaited films  of 2011. It  brings together the hit combination of Salman Khan and Anees Bazmee, years after No Entry. Also, it would be the third Bollywood outing for Asin who waited to sign a new film  after Ghajini and London Dreams.
There were reports on the web that Asin has a steamy scene with Salman in the film but the former has denied it.  
The report quoting a highly placed source says:  "No, Asin hasn't shot for any such scene in Ready. The film doesn't need that. This is someone's imagination really running wild. Asin knew that such a news piece was floating around for last few days but she decided to stay low."
"You can't stop people from speculating. Some people write things that do not carry any semblance of truth", continues the source, "Asin has been in the industry for long and understands that such news pieces do float around. She decided to let it go so that it could die a silent death in due course of time. However, when certain reputed publications and glossies also fell for the so-called piece of information, she thought it was best to clarify."
One would have expected Asin to be all fired up when confronted with the query to unveil the truth. However, surprisingly one heard a giggle from her and though it didn't convey a 'care-a-damn' gesture, Asin was stern and sure in her denial. "I am rather amused to hear this because I haven't shot any steamy scene with Salman in Ready", said Asin.
With the lady at the hot seat going on the records about her act in the film, there is of course no room for any more speculation or rumour.
"To think of it, the speculation by itself stands on a flimsy ground", smiles Asin, "Ready is a family entertainer. Now tell me, where would such a scene feature in it in any case? It's really weird that someone actually thought of bringing out such news for a movie like this where there is no scope for such a sequence in any case."