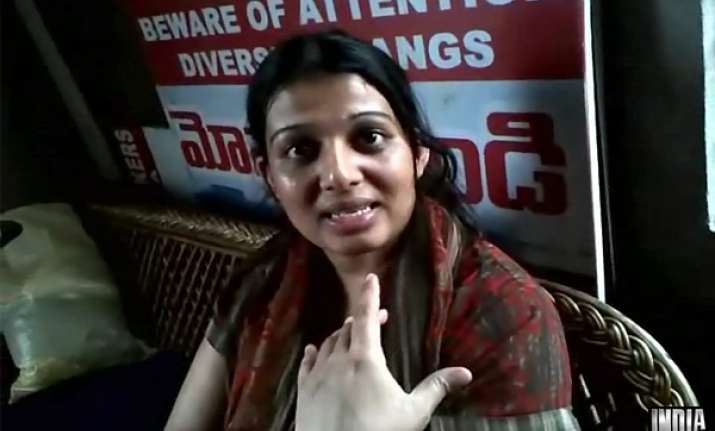 Hyderabad, Apr 13:
A stinking sex scandal threatens to engulf several MPs, MLAs, politicians and bureaucrats of Andhra Pradesh, after a Telugu female actor Tara Chowdhary threatened to disclose their names in connection with the racket.
Tara Choudhary has demanded a CBI probe, while alleging that the local police is trying to shield senior politicians and bureacrats involved in the scandal.
The actress who was sent by court to two days police custody, told the court that even the ACP looking after the case sought sexual favours from her while in custody in order to give her a clean chit.
The ACP in question, Shankar Reddy has denied the allegation saying that he, as Banjara Hills police station inspector had arrested her way back in 2006.
Tara Chowdhary has revealed the names of several MPs, MLAs and senior bureaucrats who used to come to her pad in Banjara Hills, where they were provided girls.
Hyderabad police has found spy cameras installed at various points inside her house.
After arresting the actress for allegedly forcing a girl into the sex trade and several other charges including preventing a public servant from discharging his duties, the police again searched her residence at the Navodaya Colony at Banjara Hills, and found pen cameras, laptop, porn CDs and a diary.
The case seemed to be turning big as the cops found that several VIPs, including MPs and DSPs were among her clients.
West Zone police said that a team from the Banjara Hills police station had searched her house and had seized the articles.
The police is verifying claims that her regular clients included an Opposition party's former MP, a ruling party MP, a DSP, and a DG rank officer.
The raid also unearthed eight cellphones and 21 sim cards. The cops are analysing data from the cellphones and the laptop, which may reveal more VIP clients.
The police arrested Tara Chowdhary on March 31 based on a complaint from a Vizag girl as she was cheated by the actor. The girl was brought to her house as a maid and was later forced into prostitution.
In addition to a case under the Prevention of Immoral Trafficking Act, the police had also registered a case against Tara Chowdhary for allegedly assaulting two constables after she was brought to the police station.
R. Tara Chowdhary, who acted in low budget movies like Adrushyam, Rakshakudu, Priya Sakhi and Love Ticket was held earlier also for allegedly operating a brothel.
A native of Guntur, Tara took a posh house on rent at the Navodaya Colony in Banjara Hills.