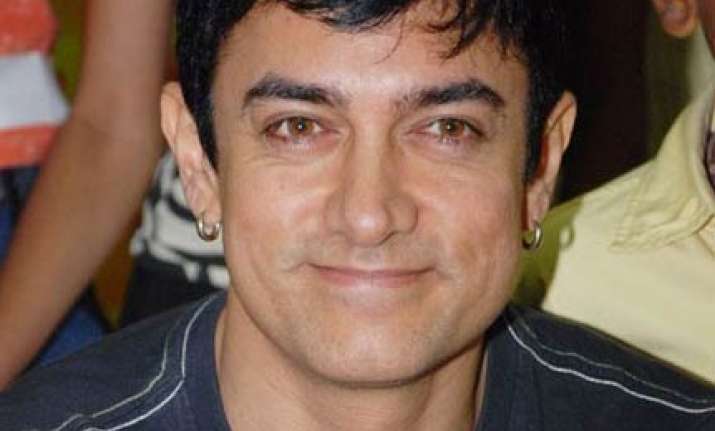 He has signed on three kids who sing in Mumbai local trains to earn money, to lend their voice for his production, tentatively titled The Falling. The kids, Durga (12), Nagarjuna (17), Bramendra (18) have recorded for the film which is about farmers' suicide. They have sung under the guidance of Mathias Duplessy, who has given the background score to the film, directed by Anusha Rizvi, says a media report.
"Mathias discovered the talented kids. He learnt that they earn their daily bread and butter by singing in local trains. He found it interesting, got in touch with the kids and things quickly fell in place. Aamir was really happy with the trio's talent and immediately agreed to record with them. In fact, Mathias is now making a film with a foreign production house where these kids will sing about six seven songs", revealed a source to the newspaper. 
Last weekend, Aamir and Vidhu Vinod Chopra, who is the producer of 3 Idiots, had a small get-together at Vidhu's house to check out the kids' talent. Aamir's wife Kiran Rao, and Vidhu's wife Anupama were also present. Mathias accompanied the kids to Vidhu's house. "The kids gave a zabardast performance. Aamir was very impressed. Aamir and Vidhu may do something for the kids in future," the source added.
Confirming the news, Mathias said, "I met the three kids two years ago through the director of The Fakir of Venice, Anand Surapur. They had played for me then. In fact, I have even traveled in trains to check out their talent. They have the energy and talent of gypsies. They're great singers. Durga is the little princess of the group and Nagarjuna is the lead singer. Bramendra too has a very good voice."
"The trio has already recorded for the film and their voice blended wonderfully with the harmonium. I have used their voice for two songs in The Falling," Mathias added.