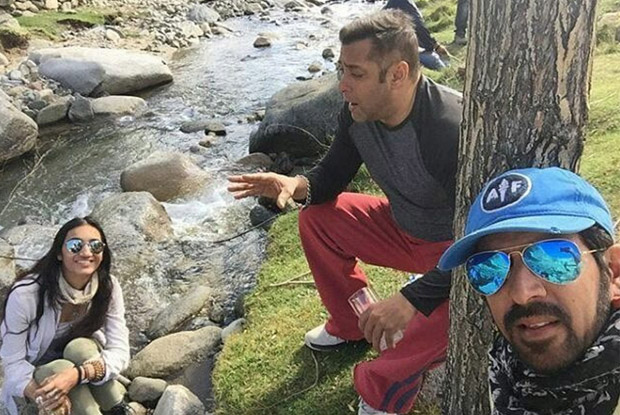 Even though the Salman Khan starrer Tubelight didn't live up to its expectations, a new behind-the-scene video is trending. The video shows the beautiful location of Ladakh and, you can also catch glimpses of Salman and filmmaker Kabir Khan. The duo is seen sharing the experience of shooting their film in the Jammu and Kashmir region.
While Tubelight collected a decent Rs 83.86 crore at the box-office in four days of its opening, the new video is winning hearts. Members of the social media seem to be in total awe of behind-the-scene clip, which has now stormed the internet. 
#Tubelight Fri 21.15 cr, Sat 21.17 cr, Sun 22.45 cr, Mon 19.09 cr [Eid]. Total: ₹ 83.86 cr. India biz.

— taran adarsh (@taran_adarsh) June 27, 2017
Several people are sharing the video and, #TubelightBehindTheScene on Twitter has started to trend like wildfire. Check out the viral video right here.
EXCLUSIVE: #Tubelight in Ladakh - @BeingSalmanKhan Talks about His Experience. #TubelightBehindTheScene Full Video - https://t.co/kINQuwg3o7 pic.twitter.com/6qNKyvrZ0E

— Akbar Kazi (@Being_Akbar) June 27, 2017
Besides Salman Khan, people are loving Matin ReyTangu and his adorable performance in Tubelight. . After the flick, people are even more eager to see more of Matin on screen. History is repeating itself. Just like Salman Khan's previous child co-star Harshali Malhotra, Matin is the new talk of the town. Do you know that this lovely little boy had to compete among thousand other kids to get finalised for the role? 
Also Read: Matin Rey Tangu to Sonakshi Sinha: B-town celebs attend Salman Khan's Eid party, see pics
Playing the role of Gu Won wasn't a cakewalk for the kid. He had to withstand almost a 100-day shoot and to display a set of emotions with grace. Too much for a 5-year-old, isn't it? Matin not only played his part in the movie but also accompanied the lead actor Salman Khan for the promotional events and screenings. This showed that he had it in him all that one needs to be a star. He has started pretty young, though!
Tubelight is set against the backdrop of 1962 Indo-China war. Lakshman Singh Bisht (Salman) is called Tubelight because he gets things slow. He believes that faith can even move mountains. His brother Bharat (Sohail) goes on a war and didn't return. But, Lakshman has the belief that he will come back. Will the innocent man find his brother? To solve the mystery, you have to rush to the cinemas.