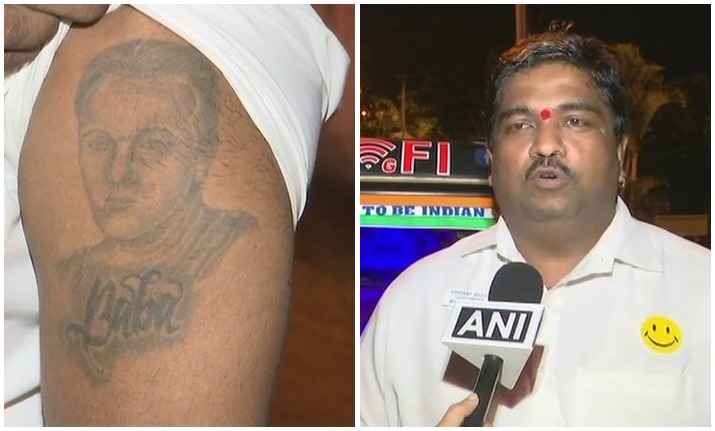 Sanjay Dutt's controversial life rounded up in a biographical film Sanju is about to be out in public with the official release of the film today. The Sanju Baba fans are eagerly waiting for the film, which is expected to break all the opening day records of all the previous releases this year. Starring Ranbir Kapoor and many other Bollywood stars, Sanju chronicles the life of 90's superstar Sanjay Dutt who always remained in limelight for his controversies and legal troubles. While the film releases on the silverscreen today, this Mumbai-based man is all geared up to watch his 'idol' on a big screen.
Sandeep Bacche, who drives an autorickshaw to make ends meet, is touted to be Dutt's biggest fan. He has been driving an auto rickshaw for the past 19 years in Mumbai and provides Free WiFi, STD/PCO, first aid kit, LCD, weather and economy updates to all his customers.
Also Read: Sanju to release this Friday: 5 reasons why you shouldn't miss this Ranbir Kapoor starrer biopic
However, Bacche considers himself to be Munna Bhai SSC.                  
Maharashtra: Sandeep Bacche, auto driver in Mumbai claims to be a big fan of Sanjay Dutt, says, 'in today's date I can give my life for him. He's helped me in my difficult times. I hoped for a 30 secs role as a fan in Sanju. Nonetheless I'm happy that a film's being made on him.' pic.twitter.com/eXBLu9m0zx

— ANI (@ANI) June 28, 2018
As fans of the reel-life 'Munnabhai' are in anticipation of watching his biopic, an 'overwhelmed' Sandeep has something more to tell.
Speaking to ANI, Bacche said, "I have been driving auto-rickshaw for the past 19 years. My mother got ill in 2001 and nobody helped me except Sanju baba (Sanjay Dutt). I have been a die-hard fan of him since then."
Bacche is also bracing up to watch the Ranbir Kapoor-starrer today, with two blind cricketers.
"I am happy that a movie is being made on Sanju baba (Sanjay Dutt) but I am feeling sad at the same time too, I thought I will have a 30 sec role in the movie as a fan because the movie is based on Sanjay Dutt's life," he added.
Also Read: Sanjay Dutt Biopic Sanju: Trailer, Latest News, Songs, Cast; Everything you need to know about Ranbir Kapoor-starrer
Written and directed by Rajkumar Hirani, 'Sanju' stars Ranbir Kapoor as Sanjay Dutt, with Manisha Koirala, Paresh Rawal, Dia Mirza, Sonam Kapoor, Vicky Kaushal, Jim Sarbh and Anushka Sharma in pivotal roles. The flick is set to release across India today.
Planning to watch Sanju today? Here's how to book your tickets.