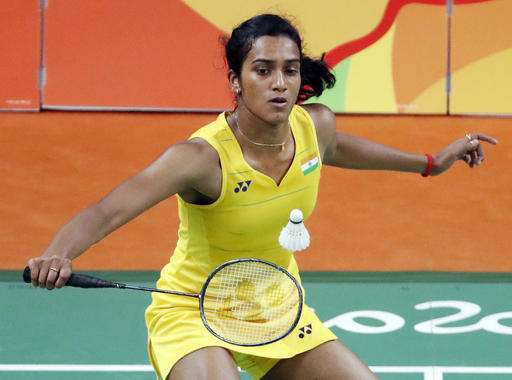 In a nail biting match, Indian shuttler PV Sindhu settled for silver in the final of singles badminton at the Rio Olympics. Sindhu was competing with Spain's Carolina Marin. Out of the three sets, Sindhu won the first but despite trying hard lost the last two.
The second game of the crucial match saw world's no. 1 dominating over Sindhu from the very start. Fighting back after losing the first game, Marin at no point let the second game slip out of her hands and won it 21-12.
The final match unfolded as a high voltage action from the beginning itself as Marin was leading the first game by a huge margin of 12-6 until Sindhu made a strong comeback turning the match in India's favour by 21-19.
Nevertheless, Indians are still proud of the 21 year old girl.
Eminent personalities from all walks of life took to micro blogging website Twitter to congratulate Sindhu for becoming the first Indian woman athlete to win individual silver in Olympics. Actors, politicians, writers, sportsmen and Prime Minister Narendra Modi tweeted that they are proud of the dedication she put in. As it turns out they are not wrong. Every Indian might be feeling the same way right now.
Here are the tweets:
Congrats for the Silver @Pvsindhu1. Very well fought. Your accomplishment at #Rio2016 is historic & will be remembered for years.

— Narendra Modi (@narendramodi) August 19, 2016
Congrats, Sindhu Very well done...

— A.R.Rahman (@arrahman) August 19, 2016
. @Pvsindhu1 is our Silver Shuttle Champion! Phenomenal performance,emotional & historic victory.She will inspire a generation of Olympians!

— Anurag Thakur (@ianuragthakur) August 19, 2016
India Proud of her daughter, Sindhu.. https://t.co/WRvgqbHByS

— Kiran Bedi (@thekiranbedi) August 19, 2016
Congratulations to @Pvsindhu1 on her incredible achievement. Although she has won a #silver but her performance was golden. #RioOlympics2016

— Rajnath Singh (@rajnathsingh) August 19, 2016
Great match P V Sindhu! The first #silver for India at Rio! Very proud! Many congratulations.

— Rahul Gandhi (@RahulGandhi) August 19, 2016
T 2353 -#PVSindhu you played your heart out ! All of India is so so proud of you .. Thank for giving us that moment of pride !!!

— Amitabh Bachchan (@SrBachchan) August 19, 2016
She played magnificently and made India proud #PVSindhu #GirlCrush

— Twinkle Khanna (@mrsfunnybones) August 19, 2016
What a game 🙀 !Congratulations @Pvsindhu1 on d Silver.Much much respect 4 ur spirited performance & sportswomanship 👏🏼#PVSindhu

— Anushka Sharma (@AnushkaSharma) August 19, 2016
what an epic epic match!the best I've seen in a while!Congratulations @Pvsindhu1 & #PullelaGopichand #Rio2016

— Deepika Padukone (@deepikapadukone) August 19, 2016
Every cloud has a silver lining indeed! First Olympic silver in Badminton for India! Thank you @Pvsindhu1 😃Huge respect #Rio2016

— Akshay Kumar (@akshaykumar) August 19, 2016
Well played India's youngest individual @Olympics medal winner @Pvsindhu1. You have won our hearts with the splendid performance. #Rio2016

— Sachin Tendulkar (@sachin_rt) August 19, 2016