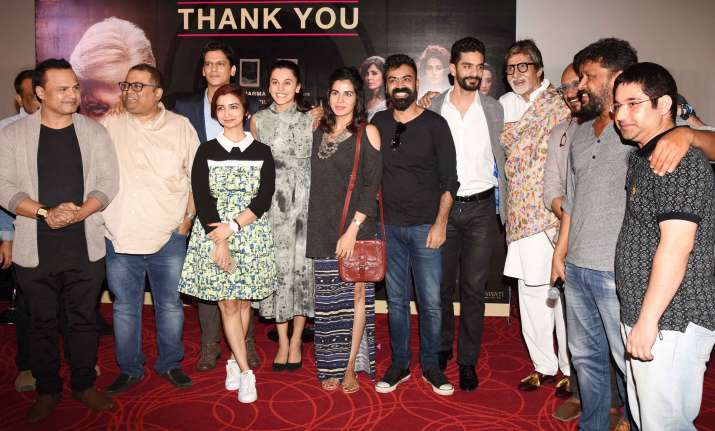 Ace filmmaker Shoojit Sircar's recent production 'Pink' I winning a lot of appreciation from the audience.
Starring Amitabh Bachchan and Tapsee Pannu in the lead, the movie has also managed to garner huge box office collections as well.
But much to everyone's surprise, Shoojit is not bothered by the box office numbers of the movie.
The producer of the movie stated that he box office collections of 'Pink' is not a matter of concern for him as the movie is beyond the money game to him
Sircar also admitted that he wasn't expecting such a response for the movie and is truly overwhelmed.
"I cannot imagine the kind of reaction that we have got. One thing I would like to request everyone is that please don't ask about the box office collection of this film," Shoojit was quoted saying,
The recent press meet of the movie got an emotional touch after lead actress Tapsee Pannu went on touch Sircar's feet as sign of respect leaving him teary eyes.
"Frankly speaking it hasn't seeped in as yet because we have been promoting this film so crazily ...its almost so good that you don't want to believe that something so good can happen. People have been tweeting and have been sending so many messages...," Tapsee said.
The actress further added: "I don't know how to do this because I belong from a sikh community and we don't touch feet that much."
Directed by Aniruddha Roy Chowdhury , "Pink" is a thriller based film set in Delhi which features Amitabh Bachchan in the role of a lawyer.
(With IANS Inputs)