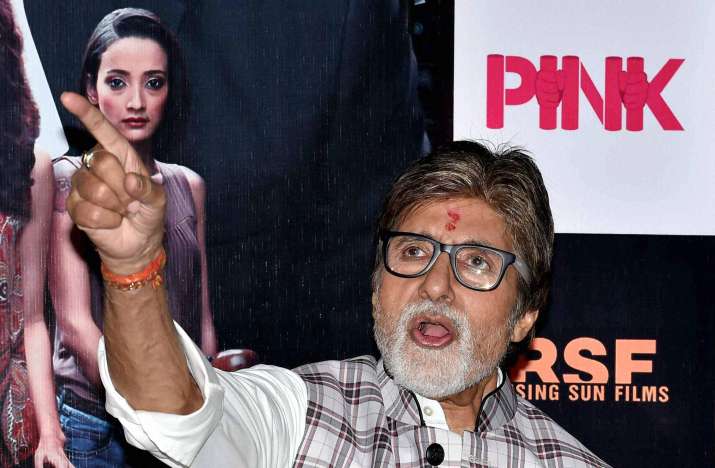 Megastar Amitabh Bachchan was seen coming to the rescue of three girls in the latest movie 'Pink' and looks like his views on the condition of women is not much different beyond the screen. Recently Big B spoke about how it is 'pitiable' that women catch the culprit who misbehaves with them but are unable to stand against them.
Singing praises for his 'Pink' co-star Tapsee Pannu, who recently opened about the molestation she faced on a daily basis while travelling in Delhi, Big B said that speaking up about the incident is a brave thing to do. Tapsee had revealed recently how she became a victim to eve-teasing and was touched at 'wrong places'.
Narrating an incident on Tapsee's life when she caught a man touching her inappropriately, Amitabh Bachchan said that she didn't turn around to see who the person was. Anguished over this, Big B said that it is not a good thing that despite catching the culprit, nothing concrete happens against them.
Speaking about 'Pink' he said that this movie will urge people to stand against the wrong and face the issues.
"When are we going to do that? I think 'Pink' is one film that is asking us to stand up and face these issues. I laud the fact that she has shared this with us," Bachchan said here.
Saying that 'Pink' has now turned into a movement from a movie, Big B asserted that people fail to realise what a woman goes through when she is cat-called, teased or felt publicly in awkward places.
"We have no idea about that and women are scared to say because they feel it's embarrassing... it would be embarrassing for their family... for themselves... for people at large. But I think the time has come that they should never feel embarrassed."
Big B acknowledged that violence against women is not restricted just to India.
"We are not the only country that is facing this,"
he said, recounting how a Swedish girl, who watched "Pink" wanted to take the film to her country.
"The law is changing now. We had one of the ministers over in Delhi to see the film and he said 'thank you because I am going to bring this aspect and make it a law that a woman has the right at any time of the day, night, whenever, that if she has a complain she should be accepted, acknowledged at that moment that it happens'."
(With IANS Inputs)